Cold Storage Chart and Reference Guide to Commercial Vegetable Storage
Robert Hadad, Extension Vegetable Specialist
Cornell Vegetable Program
December 13, 2016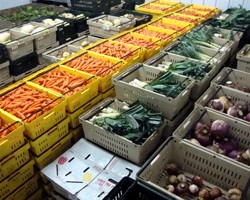 In the Cold Storage Chart and Reference Guide, vegetable growers will find storage information by crop with temperature and relative humidity recommendations. The maximum number of weeks that the crop can be held under ideal conditions is provided as well.

Additionally, adapted from the USDA Bulletin #66, The Commercial Storage of Fruits, Vegetables, and Florist and Nursery Stock, growers of the following vegetables will find information on quality, grading, sizes, and packaging, chilling and storage, and post-harvest pathology:
Asparagus
Bean
Beet
Broccoli
Brussels Sprouts
Cabbage
Carrot
Celeriac
Cucumber
Eggplant
Lettuce and Other Greens
Onion
Pepper
Squash
Sweet Corn
Tomato
Turnip and Rutabaga
Cold Storage Chart and Reference Guide (pdf; 375KB)


Upcoming Events
No upcoming events at this time.
Announcements