Cold Storage Chart and Reference Guide to Commercial Vegetable Storage
Robert Hadad, Extension Vegetable Specialist
Cornell Vegetable Program
December 13, 2016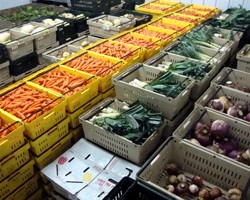 In the
Cold Storage Chart and Reference Guide
, vegetable growers will find storage information by crop with temperature and relative humidity recommendations. The maximum number of weeks that the crop can be held under ideal conditions is provided as well.
Additionally, adapted from the USDA Bulletin #66, The Commercial Storage of Fruits, Vegetables, and Florist and Nursery Stock, growers of the following vegetables will find information on quality, grading, sizes, and packaging, chilling and storage, and post-harvest pathology:
Asparagus
Bean
Beet
Broccoli
Brussels Sprouts
Cabbage
Carrot
Celeriac
Cucumber
Eggplant
Lettuce and Other Greens
Onion
Pepper
Squash
Sweet Corn
Tomato
Turnip and Rutabaga
Cold Storage Chart and Reference Guide (pdf; 375KB)


Upcoming Events
Women in Agriculture Discussion Group: Apples and Vegetables
September 30, 2019
Monday, 6:00 - 7:30 PM
Lockport, NY
Each monthly Women in Ag discussion group meeting will feature an established, innovative Farm-her leading the group on a tour of her operation and sharing her expertise on business management and production. Several guest speakers, as well as Cornell Vegetable Program staff, will be brought in to act as resource people for developing solutions to common production challenges.

The September 30 meeting will cover season extension, managing CSAs and tarping led by Liz Tee, CCE Lake Ontario Fruit Program, and Elizabeth Buck, CCE Cornell Vegetable Program. The meeting will be hosted by Bree Bacon (McCollum Orchards & Gardens). Bree will share her experience in social media marketing and passive farm income.

Announcements