Eastern NY Grape Industry Growth Prompts Marketing Initiatives,Specialist Hiring
Anne Mills, Field Technician
Eastern New York Commercial Horticulture
April 18, 2017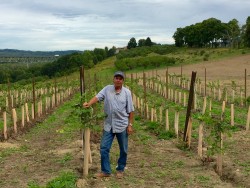 The "October 2016 Grape Production in the Eastern New York Commercial Horticulture Region" report by Elizabeth Higgins, business management specialist, Hudson Valley Lab, Highland, NY, quantifies industry growth as:
. a 34 percent increase in the number of grape-growing operations 2007-2012 with a 50 percent increase in grape acres,
. the 2001-2012 doubling of grape production acres in Ulster, Columbia, Dutchess and Orange counties,
. 2001-2012 growth from nearly zero to 100-plus grape acres in Clinton, Essex, Saratoga and Washington counties, and
. 108 wineries affiliated with local grape production; with new wineries expected.
"We have seen a proliferation of vineyards, along with hops, cheese and fiber niche industries, able to take advantage of the infrastructure built by our local dairy industry. The wineries have really taken off and not only contribute to our economy, but help keep our communities strong and maintain our agrarian landbase and the rural quality of life our business owners and employees want," says Town Supervisor Sara S. Idleman, Town of Greenwich, Washington County.
In "The Northern Grapes Baseline and Economic Impact Study" by Cornell Horticulture Professor Tim Martinson and University of Minnesota Senior Economic Impact Analyst Brigid Tuck for a 12-state region that includes NY, Tuck notes, "Growth is measured in terms of both new vineyards coming into existence and existing vineyards expanding acreage as well as adding winery operations to take in agritourism dollars."
Hudson Valley Wine and Grape Association President Michael Migliore points out that 11.5 million people live within a 90-minute drive and notes the Shawangunk Wine Trail, with 15 members from Warwick north to New Paltz, makes a sizeable investment in attracting thousands of visitors with tours and events.
"Seventy-five percent of Trail member wines are sold at the best profit margin at the vineyard-level. That opportunity is prompting next-gen apple growers to consider a return to Eastern New York's historic grape roots in the heyday before Prohibition," Migliore says.
Mary Kay Vrba, president of Dutchess Tourism.com, cites modern day legislation with a positive impact. She notes, "The Farm Winery Bill passed in 1976, paving the way for rapid growth of the Hudson Valley wine industry. Today, we see this industry adding to the entire craft beverage movement and local wines play a major role in branding not only Dutchess County but the Hudson Valley."
To capitalize on consumer interest in diversified beverage experiences, Migliore has developed a visit-all-three package with a cidery, a distillery, and his own Whitecliff Vineyard and Winery in Gardiner, in Ulster County.
Doug Glorie of Glorie Farm Winery, Marlboro, NY, is spearheading the one-year-old Hudson Valley Cabernet Franc Coalition, LLC, creating excitement around a single signature variety.
"Every year I plant more Cabernet Franc vines with different clones to add complexity to our wines. Growers are rallying 'round to draw tasters to Cabernet Franc and then discover our many wines. I expect in 5 to 10 years this region will be recognized as the best Cabernet Franc region in the state," Glorie says.
Meeting the quality standards of the paid-membership Coalition allows vintners to brand their wines with a unique logo that signals they were made with Hudson Valley-grown or sourced grapes.
Glorie is pleased that the Eastern New York Commercial Horticulture Program (ENYCHP) of Cornell University Cooperative Extension, serving a 17-county area spanning the Hudson Valley, Champlain Valley, and Capital regions, is hiring a new viticulture specialist to begin work this spring.
"Cornell resources provide a tremendous conduit of knowledge supporting grape production, winemaking, and farm business management. Their support is critical for new growers and growers adding wineries," Glorie says.
"From site evaluation for planting our first vines and best management production practices to winemaking techniques and the business of tasting rooms, the assistance of the Eastern New York Commercial Horticulture Program has directly benefitted our farm business," says Gerry Barnhart, owner-operator of 3.5 acre Victory View Vineyard in Easton in Washington County.
Barnhart harvests 15 tons of grapes annually to make 600-800 cases of wine sold at the vineyard tasting room and through marketing outreach that includes wine services to bridal showers, office parties, cheese tours and other local events
"Thanks to the 'northern' grape varieties developed by Cornell and in Minnesota, we have seen significant growth in smaller vineyards since we began in 2008," Barnhart adds.
"We are thrilled to be welcoming a grapes specialist to help maximize learning opportunities to support vineyard and wine industry growth throughout Eastern New York," says ENYCHP Small Fruit and Vegetable Team Leader Laura McDermott.
The newly-hired specialist will work with growers throughout the 17-county region and oversee new varieties planting at the cold-hardy grape research nursery at the Willsboro Research Farm along Lake Champlain in Willsboro, NY. Growers, private grape breeders, and representatives of the Cornell-USDA and University of Minnesota grape breeding programs helped develop a list of 21 potential new cold-hardy varieties for evaluation at the nursery established and now being refreshed with grant funding from the farmer-driven Northern New York Agricultural Development Program.
Migliore credits the advent of grape varieties that tolerate NY winters well as a positive force in overcoming the Euro-centric wine preferences dominating the metropolitan mindset in Northeastern cities.
To access ENYCHP educational resources, newsletters, and pest alerts, grape and horticultural crop growers in Albany, Clinton, Columbia, Dutchess, Essex, Fulton, Greene, Montgomery, Orange, Putnam, Rensselaer, Saratoga, Schenectady, Schoharie, Ulster, Warren, and Washington counties can enroll in the ENYCHP at https://enych.cce.cornell.edu/enrollment.php. Those outside the 17- county region may enroll as satellite members. Learn more at www.enychp.cce.cornell.edu.
MORE INFO
Eastern NY American Viticultural Areas
Eastern NY has two American Viticultural Areas (AVA), allowing vintners to attribute unique characteristics to grapes grown in those geographic areas.
Eastern NY has two American Viticultural Areas (AVA): the Hudson River Region AVA and the Champlain Valley AVA allowing vintners to attribute unique characteristics to grapes grown in those geographic areas.
"The Hudson River Region, one of the oldest AVAs in New York, includes 49 wineries and more than 235 acres of vineyards in parts of Ulster, Orange, Columbia, Dutchess, and Westchester, Putnam, Rockland, and Sullivan counties, producing red wine blends and Pinot Noir, Cabernet Franc, Seyval, and Traminette varieties," Higgins reports.
The Champlain Valley, the state's newest AVA, includes Clinton and Essex counties with 11 commercial vineyards and six wineries with a near-term growth projection from 15.47 acres to more than 78 acres.
"The Champlain Valley AVA is distinguished by its short growing season, cold winter temperatures, and production of cold-hardy North American hybrid grape varieties, including Frontenac, La Crescent, and Marquette," Higgins says.
A Recent Growth Indicator in Dutchess County: from DutchessTourism.com:
Launched in 2015, Milea Estate Vineyard in Staatsburg, NY, immediately produced award-winning wines and expanded to a 98-acre destination in 2016, with a tasting room and event space opening in 2017.
PHOTO available by request to karalynn@gisco.net:
Hudson Valley Wine and Grape Association President Michael Migliore at his Whitecliff Vineyard and Winery in Gardiner, NY, Ulster County. Photo courtesy of Whitecliff Vineyard and Winery


Upcoming Events
2023 Potato Advisory Meeting

December 12, 2023
Canandaigua, NY
This year's Potato Advisory Meeting will include talks from Cornell faculty on insect pest and weed updates, as well as updates from this year's potato variety trials. Following lunch, there will be a round table discussion with fellow potato growers and industry members. DEC credits: 2.0 credits in 10, 1a, 23. This meeting is FREE to attendees and includes lunch!
2024 Finger Lakes Produce Auction Winter Growers Meeting

January 4, 2024
Penn Yan, NY
This annual meeting will present information on insect and disease management in fresh market vegetables in both field and greenhouse (high tunnel) vegetables, primarily for those growing for wholesale auction. Grafting, biological and, where appropriate, conventional spray options will be discussed. Berry production updates will be provided. A general session will include updates from the Food Safety Modernization Act. Judson Reid, Senior Extension Associate with the Cornell Vegetable Program along with CCE staff will instruct participants and facilitate peer-based learnings. DEC recertification credits will be offered.
Announcements