Best Management Practices for Long-Term High Tunnel Soil Sustainability
Judson Reid, Extension Vegetable Specialist
Cornell Vegetable Program
April 25, 2017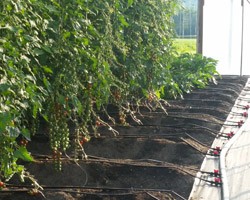 A collaboration between Cornell Vegetable Program, the Cornell Student Organic Farm and NOFA-NY resulted in a $10,000 award from the Towards Sustainability Foundation. The project team worked closely with 10 high tunnel operators across Central and Western NYS, educated farmers and students, and provided technical assistance in managing soil health in high tunnels for long term productivity. At these farms a total of 20 soil tests and 80 foliar tests were performed, and it was documented that 7 of the 10 farms regularly exceeded recommended soil nutrient levels, often by more than 150%. These excess levels not only indicated a challenge in environmental, but also financial sustainability. Phosphorus, calcium and magnesium from fertilizers build up over time and interfere with other nutrient uptake. High pH irrigation water and fertilizers cause soil pH to rise, limiting micronutrient availability.
Project staff worked closely with growers to analyze and respond to the results, focusing on reducing phosphorus and calcium inputs and better supplying the crop with sufficient nutrition. This reduced excess nutrient application in high tunnel soils and lead to improved net profitability as input costs decrease and yields increased. The 10 participating NYS High Tunnel growers improved tunnel sustainability by optimizing fertilizer inputs, balancing macro-nutrients, decreasing compaction, increasing organic matter levels and other related parameters through the implementation of soil BMPs.
6 of 10 participating growers adopted the incorporation of cover crops to the high tunnel rotation to increase organic matter, reduce compaction and reduce excess nutrients in the soil.
8 of 10 participating growers adopted the use of low-to-no phosphorus fertilizers to avoid further nutrient build up.
8 of 10 participating growers improved their pH management strategy through soil and/or water acidification.
After participating in this project, net high tunnel income increased by an average of $1556.61, for an average increase of 26.9%.
The program was refunded for an additional $10,000 to continue the work in 2017.
A short video about high tunnel soil conditions
, produced by NOFA-NY, features Cornell Vegetable Program Specialist Judson Reid.


Upcoming Events
Chipping Potato Twilight Meeting

August 25, 2022
Dansville, NY
View the chipping potato variety trial and hear updates from Walter De Jong of Cornell! Mike Mager of Arctic Refrigeration will provide updates in potato storage. Brian Nault, Cornell, and Margie Lund, CCE, will talk about insecticidal rotations for Colorado potato beetle and other potato insect updates. 1.0 DEC (categories 1a, 10, 23) recertification credits are available.
Announcements