Best Management Practices for Long-Term High Tunnel Soil Sustainability
Judson Reid, Extension Vegetable Specialist
Cornell Vegetable Program
April 25, 2017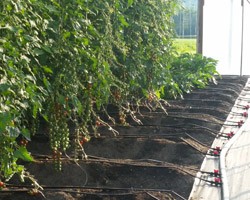 A collaboration between Cornell Vegetable Program, the Cornell Student Organic Farm and NOFA-NY resulted in a $10,000 award from the Towards Sustainability Foundation. The project team worked closely with 10 high tunnel operators across Central and Western NYS, educated farmers and students, and provided technical assistance in managing soil health in high tunnels for long term productivity. At these farms a total of 20 soil tests and 80 foliar tests were performed, and it was documented that 7 of the 10 farms regularly exceeded recommended soil nutrient levels, often by more than 150%. These excess levels not only indicated a challenge in environmental, but also financial sustainability. Phosphorus, calcium and magnesium from fertilizers build up over time and interfere with other nutrient uptake. High pH irrigation water and fertilizers cause soil pH to rise, limiting micronutrient availability.
Project staff worked closely with growers to analyze and respond to the results, focusing on reducing phosphorus and calcium inputs and better supplying the crop with sufficient nutrition. This reduced excess nutrient application in high tunnel soils and lead to improved net profitability as input costs decrease and yields increased. The 10 participating NYS High Tunnel growers improved tunnel sustainability by optimizing fertilizer inputs, balancing macro-nutrients, decreasing compaction, increasing organic matter levels and other related parameters through the implementation of soil BMPs.
6 of 10 participating growers adopted the incorporation of cover crops to the high tunnel rotation to increase organic matter, reduce compaction and reduce excess nutrients in the soil.
8 of 10 participating growers adopted the use of low-to-no phosphorus fertilizers to avoid further nutrient build up.
8 of 10 participating growers improved their pH management strategy through soil and/or water acidification.
After participating in this project, net high tunnel income increased by an average of $1556.61, for an average increase of 26.9%.
The program was refunded for an additional $10,000 to continue the work in 2017.
A short video about high tunnel soil conditions
, produced by NOFA-NY, features Cornell Vegetable Program Specialist Judson Reid.


Upcoming Events
SCRUB Twilight Workshop Series
September 1, 2021 : Bin Blitz
Experienced growers and UVM's Ag Engineering present new strategies and cleaning tools to increase the efficiency and efficacy of bin cleaning, sanitation and management practices. Lead growers show and tell their bin systems, with lessons learned. Participants leave with a plan to improve/implement new practices.
September 8, 2021 : Low Cost and High Value
Evaluate low-cost (either money or time) improvements that make a big difference. Experience growers show and tell the thrifty improvements they made and summarize lessons learned, including trade-offs of spending money (or not) to lower risks and increase efficiency.
September 15, 2021 : Wash/Pack Floors
Learn to improve or repair a concrete floor so that it is smooth and easy to clean. This workshop highlights concrete repair, cleaning and sanitation techniques, water management, products and resources, as well as show and tell from experienced growers, and Chris Callahan from UVM's Extension Ag Engineering.
September 22, 2021 : Wash Water Management
Experienced growers and facilitators dig into the fundamentals of managing produce wash water, including show and tell with lessons learned about wash water management, use and monitoring of sanitizers. All participants leave with a plan to improve/implement new practices.
September 29, 2021 : Tools for Employee Management and Empowerment
Develop management strategies/systems to retain and empower high-value workers, while improving crew morale and culture. Learn from experienced managers of loyal and reliable crews, the pros and cons of their current management systems, and how they came to be. Participants leave with resources and a plan to improve/implement one or more new practices or strategies.
October 6, 2021 : Bubblers/Aerators for Greens Washing
For growers wanting to install or improve a greens bubbler/aerator. Get feedback from growers who built/improved their own systems. Examine designs and DYI resources, as well as perceived quality and efficiency gains from bubblers as compared to other washing methods. This workshop features a panel of New York growers!
Announcements