Nitrogen Fertility Options for Organic High Tunnels
Cordelia Machanoff, Program Aide
Cornell Vegetable Program
Last Modified: May 25, 2017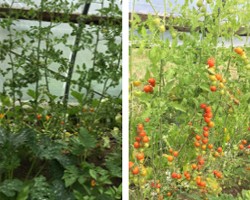 It is transplant season for high tunnel tomatoes, particularly on farms that have just completed an early spring greens crop. Now is the time to plan for fertility for the longer season tomato crop. Conventional high tunnel growers can rely on soluble fertilizers which are injected through drip irrigation at a precise rate. However, organic tunnel fertility is more challenging, particularly in regards to long season nitrogen delivery. Most organic nitrogen sources are not injectable and must be applied prior to planting. These often come with unbalanced ratios of other nutrients such as phosphorus, calcium and magnesium. Several years of foliar sampling in high tunnel tomatoes throughout NYS has shown that organic high tunnel tomatoes generally start out with sufficient or even excess nitrogen, but go into a mid-season dive in foliar nitrogen levels.
Given the longer season and higher yields of tunnel tomatoes, a nitrogen fertilizer to inject or side-dress will help prevent mid-season deficiencies.
Our recommendations and pre-plant and in-season organic nitrogen sources are provided in the PDF below.
This work is part of a 2-year project between CCE Cornell Vegetable Program and NOFA-NY with support from the New York Farm Viability Institute.
Nitrogen Fertility Options for Organic High Tunnels, May 2017 (pdf; 1094KB)


Upcoming Events
2019 Processing Vegetable Crops Advisory Meeting

December 17, 2019
9:30am - 12:10pm, 1pm - 2pm, and 2pm - 3:30pm
Batavia, NY
All are invited to attend and discuss the 2019 season for each crop, meet the new Cornell Weed Scientist and discuss weed management concerns, and receive updates on research conducted during 2019. Separate DEC and CCA credits will be available for each of the 3 crop meetings. The meeting is free of charge and there is no registration required.
Announcements