Video: Flea Beetles
June 5, 2017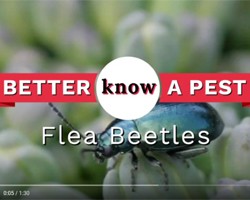 Flea beetles are a common vegetable pest affecting peppers, cucurbits, sweet potato, potato, peas, beans, beets, tomato, corn, turnip, pumpkin, melon, eggplant, and others. This short video gives you some general information about this pest.
Credits: Info from
Flea Beetle Pests of Vegetables factsheet, 1999
. Photos by Russ Ottens, University of Georgia, Bugwood.org; Whitney Cranshaw, Colorado State University, Bugwood.org; Darcy Telenko, Judson Reid, Julie Kikkert and Christy Hoepting, CCE Cornell Vegetable Program; Abby Seaman, The New York State IPM Program. Video footage by Darcy Telenko and James Monahan, Cornell Cooperative Extension.


Upcoming Events
No upcoming events at this time.
Announcements