Video: Flea Beetles
June 5, 2017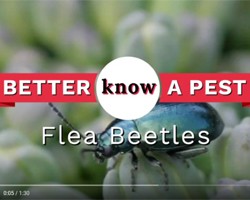 Flea beetles are a common vegetable pest affecting peppers, cucurbits, sweet potato, potato, peas, beans, beets, tomato, corn, turnip, pumpkin, melon, eggplant, and others. This short video gives you some general information about this pest.
Credits: Info from
Flea Beetle Pests of Vegetables factsheet, 1999
. Photos by Russ Ottens, University of Georgia, Bugwood.org; Whitney Cranshaw, Colorado State University, Bugwood.org; Darcy Telenko, Judson Reid, Julie Kikkert and Christy Hoepting, CCE Cornell Vegetable Program; Abby Seaman, The New York State IPM Program. Video footage by Darcy Telenko and James Monahan, Cornell Cooperative Extension.


Upcoming Events
Women in Agriculture Discussion Group: Apples and Vegetables
September 30, 2019
Monday, 6:00 - 7:30 PM
Lockport, NY
Each monthly Women in Ag discussion group meeting will feature an established, innovative Farm-her leading the group on a tour of her operation and sharing her expertise on business management and production. Several guest speakers, as well as Cornell Vegetable Program staff, will be brought in to act as resource people for developing solutions to common production challenges.

The September 30 meeting will cover season extension, managing CSAs and tarping led by Liz Tee, CCE Lake Ontario Fruit Program, and Elizabeth Buck, CCE Cornell Vegetable Program. The meeting will be hosted by Bree Bacon (McCollum Orchards & Gardens). Bree will share her experience in social media marketing and passive farm income.

Announcements