Cover Crops for Vegetable Growers Website
Carol MacNeil, Extension Vegetable Specialist
Cornell Vegetable Program
Last Modified: August 17, 2015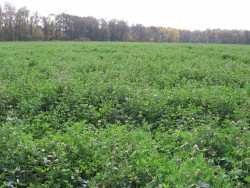 Vegetable production involves many practices that compromise soil health, and therefore limit productivity. New York soils are less forgiving of such practices than soils in many other regions. Therefore, leading vegetable growers want to overcome this barrier to success with practices that maintain soil health. Some of the management goals for which farmers use cover crops include suppressing weeds, protecting soil from rain or runoff, improving soil aggregate stability, reducing surface crusting, adding active organic matter to soil, breaking hardpan, fixing nitrogen, scavenging soil nitrogen, and suppressing soil diseases and pests.
This website enables growers to use a broader range of cover crops including grasses, legumes, crucifers and other kinds of cover crops. Cover crops are suggested for spring, summer, fall and over wintering.
Go to the
Cover Crops for Vegetable Growers
website.


Upcoming Events
Niagara Region Summer Vegetable Meeting

August 3, 2021
Appleton, NY
1.5 DEC credits requested. Field meeting featuring weed and disease control. Chris Smart, Cornell's Plant Pathologist, will be discussing control of bacterial diseases in tomato, Alternaria in brassicas, and other current/hot topics in disease. Weed Scientist Lynn Sosnoskie will introduce new pigweed species that are appearing in our region and give updates on herbicide resistance and new mechanical weed control techniques. Smaller topics include soil health.

Chipping Potato Growers Twilight Meeting
August 5, 2021
Dansville, NY
Join us for a fun, potato-centered twilight meeting at Mahany Farms! Come hear about updates from this year's chipping potato variety trial, and learn more about disease forecasting and management. Network with fellow growers, event speakers, and Cornell Cooperative Extension staff following the talks.
Announcements