Cover Crops for Vegetable Growers Website
Carol MacNeil, Extension Vegetable Specialist
Cornell Vegetable Program
Last Modified: August 17, 2015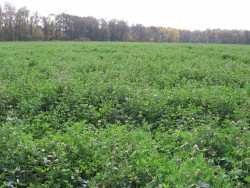 Vegetable production involves many practices that compromise soil health, and therefore limit productivity. New York soils are less forgiving of such practices than soils in many other regions. Therefore, leading vegetable growers want to overcome this barrier to success with practices that maintain soil health. Some of the management goals for which farmers use cover crops include suppressing weeds, protecting soil from rain or runoff, improving soil aggregate stability, reducing surface crusting, adding active organic matter to soil, breaking hardpan, fixing nitrogen, scavenging soil nitrogen, and suppressing soil diseases and pests.
This website enables growers to use a broader range of cover crops including grasses, legumes, crucifers and other kinds of cover crops. Cover crops are suggested for spring, summer, fall and over wintering.
Go to the
Cover Crops for Vegetable Growers
website.


Upcoming Events
2023 Potato Advisory Meeting

December 12, 2023
Canandaigua, NY
This year's Potato Advisory Meeting will include talks from Cornell faculty on insect pest and weed updates, as well as updates from this year's potato variety trials. Following lunch, there will be a round table discussion with fellow potato growers and industry members. DEC credits: 2.0 credits in 10, 1a, 23. This meeting is FREE to attendees and includes lunch!
2024 Finger Lakes Produce Auction Winter Growers Meeting

January 4, 2024
Penn Yan, NY
This annual meeting will present information on insect and disease management in fresh market vegetables in both field and greenhouse (high tunnel) vegetables, primarily for those growing for wholesale auction. Grafting, biological and, where appropriate, conventional spray options will be discussed. Berry production updates will be provided. A general session will include updates from the Food Safety Modernization Act. Judson Reid, Senior Extension Associate with the Cornell Vegetable Program along with CCE staff will instruct participants and facilitate peer-based learnings. DEC recertification credits will be offered.
Announcements