Cover Crops for Vegetable Growers Website
Carol MacNeil, Extension Vegetable Specialist
Cornell Vegetable Program
Last Modified: August 17, 2015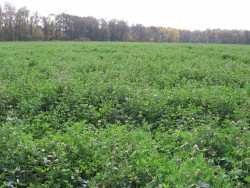 Vegetable production involves many practices that compromise soil health, and therefore limit productivity. New York soils are less forgiving of such practices than soils in many other regions. Therefore, leading vegetable growers want to overcome this barrier to success with practices that maintain soil health. Some of the management goals for which farmers use cover crops include suppressing weeds, protecting soil from rain or runoff, improving soil aggregate stability, reducing surface crusting, adding active organic matter to soil, breaking hardpan, fixing nitrogen, scavenging soil nitrogen, and suppressing soil diseases and pests.
This website enables growers to use a broader range of cover crops including grasses, legumes, crucifers and other kinds of cover crops. Cover crops are suggested for spring, summer, fall and over wintering.
Go to the
Cover Crops for Vegetable Growers
website.


Upcoming Events
2019 Processing Vegetable Crops Advisory Meeting

December 17, 2019
9:30am - 12:10pm, 1pm - 2pm, and 2pm - 3:30pm
Batavia, NY
All are invited to attend and discuss the 2019 season for each crop, meet the new Cornell Weed Scientist and discuss weed management concerns, and receive updates on research conducted during 2019. Separate DEC and CCA credits will be available for each of the 3 crop meetings. The meeting is free of charge and there is no registration required.
2020 Finger Lakes Produce Auction Education Meeting

January 2, 2020
9:00 AM - 2:00 PM
Penn Yan, NY
This meeting is our annual winter educational event for Finger Lakes Produce Auction growers. This year we will focus on farm food safety clarifications, soil health, pepper pests, strawberries, and control of tomato and vine crop diseases through use of biopesticides. 2.5 DEC recertification credits will be available in category 23, and 0.5 credits in category 22.
2020 Ontario Produce Auction Winter Growers Meeting

January 8, 2020
9:00 AM - 2:30 PM
Stanley, NY
This course will educate growers on disease and pest management, varieties and marketing issues in vegetables and small fruit. Topics such as disease resistant varieties, pest/disease, cultural management and appropriate spray options. An anticipated 1.0 hours of content is eligible for re-certification credits.
Announcements