Growing for Wholesale: Grading and Packing Guidelines by Crop
Last Modified: August 29, 2019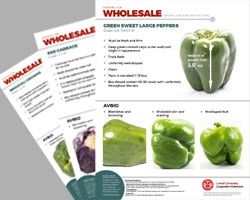 Grading and packing guidelines are now available for 18 commonly grown specialty crops in NYS: romaine lettuce, acorn squash, broccoli crowns, Brussels sprouts, sweet corn, green peppers, cucumbers, green cabbage, red cabbage, savoy cabbage, cauliflower, eggplant, green beans, jalapenos, poblanos, Hungarian hot peppers, summer squash, and zucchini.

Acceptable quality standards and common defects that should be sorted out on the grading line are depicted in these resources, both visually and in outline form.

This resource was developed through the support of Cheryl Thayer of CCE Harvest NY, Dave Walczak of Eden Valley Growers, Angela (Parr) Ochterski and Robert Hadad of the CCE Cornell Vegetable Program, and Jim Monahan of Cornell Cooperative Extension. Further, development of this resource was made possible through grant funding from the USDA Local Food Promotion Program.

Additional sheets are being added. See the new Romaine Lettuce sheet (September 2019) and Acorn Squash sheet (2018). New sheets are created by Robert Hadad and Angela Ochterski of the CCE Cornell Vegetable Program.
Acorn Squash (pdf; 1397KB)
Broccoli Crowns (pdf; 1416KB)
Brussels Sprouts (pdf; 917KB)
Cabbage - Green (pdf; 1037KB)
Cabbage - Red (pdf; 1431KB)
Cabbage - Savory (pdf; 1087KB)
Cauliflower 9's (pdf; 1409KB)
Cucumbers - Select (pdf; 880KB)
Cucumbers - 24ct Super (pdf; 1143KB)
Cucumbers - 36ct Super (pdf; 1143KB)
Cucumbers - Super (pdf; 1142KB)
Eggplant (pdf; 1113KB)
Green Beans (pdf; 780KB)
Peppers - Choice Green (pdf; 743KB)
Peppers - Green Sweet Large (pdf; 875KB)
Peppers - Green Sweet Medium (pdf; 907KB)
Peppers - Hungarian Hot 1 1/9 (pdf; 660KB)
Peppers - Hungarian Hot 1/2 Bushel (pdf; 662KB)
Peppers - Jalapeno 1 1/9 (pdf; 824KB)
Peppers - Jalapeno 1/2 Bushel (pdf; 828KB)
Peppers - Pablano 1 1/9 (pdf; 753KB)
Peppers - Pablano 1/2 Bushel (pdf; 756KB)
Romaine Lettuce (pdf; 364KB)
Squash - Summer (pdf; 802KB)
Sweet Corn Boxes (pdf; 2089KB)
Zucchini (pdf; 1173KB)
Set of All Crop Sheets (pdf; 17316KB)
Download this file if you wish to have 1 file containing all 26 crop sheets


Upcoming Events
Western S. Tier Produce Meeting

January 28, 2020
Jamestown, NY
A jam-packed schedule of educational topics for regional growers, this meeting features dynamic sessions and peer-to-peer learning opportunities. Topics will be relevant for vegetable, berry, field crops, and greenhouse/flower, and organic growers. Focus areas in 2020 include disease management and enhancing local markets. Pesticide credits available in many NY and PA categories, CEUs requested.
2020 Upper Genesee Valley Produce Growers Meeting
February 14, 2020
Freedom, NY
A bit of something for everyone! This meeting will feature experts from Cornell Cooperative Extension discussing food safety in auction lots and quality control, how to successfully lengthen the growing season, making the most of a small grain rotational crop, and common disease and pest info. Summer squash, cabbage and pepper production tips will be presented by Mark Zittel, an experienced produce and greenhouse grower for 20+ years. Participants will have the opportunity to join group discussion in breakout sessions of their choosing. And don't forget to stop by the Demo Table to see weeds and soil health exhibits. FREE but registration is requested by February 12.
Precision Agriculture Series - Erie
February 19, 2020
March 4, 2020
March 25, 2020
: Erie County
East Aurora, NY
Join Cornell Cooperative Extension to learn what precision agriculture entails, the economics of using precision ag, and the preferred methodology and benefits. This free, 3-day event series is being organized by CCE Erie County with assistance from Dr. Ali Nafchi, Precision Ag Specialist of the CCE Cornell Vegetable Program and CCE NWNY Dairy, Livestock, and Field Crops team. Topics for each day will be determined by the audience interests and questions.
Announcements