Growing for Wholesale: Grading and Packing Guidelines by Crop
Last Modified: August 29, 2019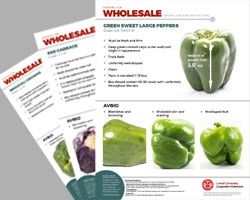 Grading and packing guidelines are now available for 18 commonly grown specialty crops in NYS: romaine lettuce, acorn squash, broccoli crowns, Brussels sprouts, sweet corn, green peppers, cucumbers, green cabbage, red cabbage, savoy cabbage, cauliflower, eggplant, green beans, jalapenos, poblanos, Hungarian hot peppers, summer squash, and zucchini.

Acceptable quality standards and common defects that should be sorted out on the grading line are depicted in these resources, both visually and in outline form.

This resource was developed through the support of Cheryl Thayer of CCE Harvest NY, Dave Walczak of Eden Valley Growers, Angela (Parr) Ochterski and Robert Hadad of the CCE Cornell Vegetable Program, and Jim Monahan of Cornell Cooperative Extension. Further, development of this resource was made possible through grant funding from the USDA Local Food Promotion Program.

Additional sheets are being added. See the new Romaine Lettuce sheet (September 2019) and Acorn Squash sheet (2018). New sheets are created by Robert Hadad and Angela Ochterski of the CCE Cornell Vegetable Program.
Acorn Squash (pdf; 1397KB)
Broccoli Crowns (pdf; 1416KB)
Brussels Sprouts (pdf; 917KB)
Cabbage - Green (pdf; 1037KB)
Cabbage - Red (pdf; 1431KB)
Cabbage - Savory (pdf; 1087KB)
Cauliflower 9's (pdf; 1409KB)
Cucumbers - Select (pdf; 880KB)
Cucumbers - 24ct Super (pdf; 1143KB)
Cucumbers - 36ct Super (pdf; 1143KB)
Cucumbers - Super (pdf; 1142KB)
Eggplant (pdf; 1113KB)
Green Beans (pdf; 780KB)
Peppers - Choice Green (pdf; 743KB)
Peppers - Green Sweet Large (pdf; 875KB)
Peppers - Green Sweet Medium (pdf; 907KB)
Peppers - Hungarian Hot 1 1/9 (pdf; 660KB)
Peppers - Hungarian Hot 1/2 Bushel (pdf; 662KB)
Peppers - Jalapeno 1 1/9 (pdf; 824KB)
Peppers - Jalapeno 1/2 Bushel (pdf; 828KB)
Peppers - Pablano 1 1/9 (pdf; 753KB)
Peppers - Pablano 1/2 Bushel (pdf; 756KB)
Romaine Lettuce (pdf; 364KB)
Squash - Summer (pdf; 802KB)
Sweet Corn Boxes (pdf; 2089KB)
Zucchini (pdf; 1173KB)
Set of All Crop Sheets (pdf; 17316KB)
Download this file if you wish to have 1 file containing all 26 crop sheets


Upcoming Events
Sanitation Open House for Fruit and Vegetable Growers
November 29, 2022
Geneva, NY
Come experience several hands-on stations to help jump start and enhance your sanitation program. Try out new cleaning tools, learn how to select the right sanitizer, and assess the cleanability of different equipment.
Farm Food Safety Meeting
December 5, 2022
Newark, NY
This meeting will focus on updates and key considerations in farm food safety. Topics to be covered include agricultural water quality assessments, traceability procedures, tips for improving flow and efficiency in wash/pack facilities, cleaning and sanitation updates, plus plenty of discussion to answer your questions.
GAPs Training -- Understanding Food Safety on the Farm
December 9, 2022
Penn Yan, NY
Join the Cornell Vegetable Program and Cornell Cooperative Extension for a workshop that will provide you with the why's behind food safety recommendations along with practical, farm-based ideas to improve food safety on your farm.
Announcements