Set Up an Efficient Wash/Pack Facility
Robert Hadad, Extension Vegetable Specialist
Cornell Vegetable Program
November 28, 2017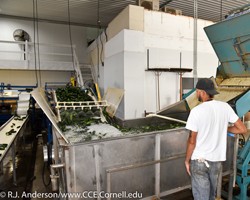 The goal of this document is to provide more detail on setting up an efficient wash/pack facility with a focus on farm food safety and maintaining post-harvest quality. Of course, each farm will have unique circumstances and need different pieces of equipment. The idea here is think about the way to use a space to your best advantage. A facility should be set up to wash and move produce efficiently while getting the job done effectively. Whether you are adapting a currently existing space or starting from scratch, you can use this document to plan as close to the ideal situation as possible. You can customize to your specific situation, budget and needs.
The "Ideal" Wash and Pack Facility Layout (pdf; 485KB)


Upcoming Events
No upcoming events at this time.
Announcements