Video and Final Report: Managing Wildlife Damage in Sweet Corn
Last Modified: July 19, 2018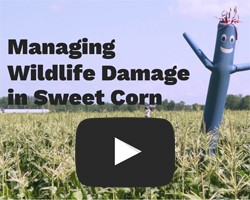 Learn more about the on-farm evaluations of new tools -- chemical control, air dancers, scare-eye balloons, and detasseling -- for managing bird damage in sweet corn fields conducted by the CCE Cornell Vegetable Program in 2017 in this video and newly released final report.

This research was supported by a Northeast SARE Partnership Grant and the New York Farm Viability Institute.

For more information on this project, contact Marion Zuefle of the NYS Integrated Pest Management (IPM) Program.
Bird Damage: Management Options in Sweet Corn Production in New York (pdf; 2398KB)


Upcoming Events
No upcoming events at this time.
Announcements