High Tunnel Best Management Practices for Long Term Soil Health and Fertility
Judson Reid, Extension Vegetable Specialist
Cornell Vegetable Program
March 19, 2018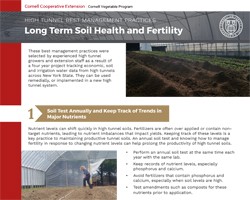 These
best management practices
were selected by experienced high tunnel growers and extension staff as a result of a four year project tracking economic, soil and irrigation water data from high tunnels across New York State. They can be used remedially, or implemented in a new high tunnel system.
1 -- Soil Test Annually and Keep Track of Trends in Major Nutrients
2 -- Actively Address and Manage Soil pH, and Irrigation Water pH and Alkalinity
3 -- Add Organic Matter
4 -- Foliar Test the Crop and Respond to the Results
High Tunnel Best Management Practices for Long Term Soil Health and Fertility (pdf; 1569KB)


Upcoming Events
Chipping Potato Twilight Meeting

August 25, 2022
Dansville, NY
View the chipping potato variety trial and hear updates from Walter De Jong of Cornell! Mike Mager of Arctic Refrigeration will provide updates in potato storage. Brian Nault, Cornell, and Margie Lund, CCE, will talk about insecticidal rotations for Colorado potato beetle and other potato insect updates. 1.0 DEC (categories 1a, 10, 23) recertification credits are available.
Announcements