High Tunnel Best Management Practices for Long Term Soil Health and Fertility
Judson Reid, Extension Vegetable Specialist
Cornell Vegetable Program
March 19, 2018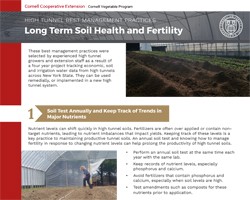 These
best management practices
were selected by experienced high tunnel growers and extension staff as a result of a four year project tracking economic, soil and irrigation water data from high tunnels across New York State. They can be used remedially, or implemented in a new high tunnel system.
1 -- Soil Test Annually and Keep Track of Trends in Major Nutrients
2 -- Actively Address and Manage Soil pH, and Irrigation Water pH and Alkalinity
3 -- Add Organic Matter
4 -- Foliar Test the Crop and Respond to the Results
High Tunnel Best Management Practices for Long Term Soil Health and Fertility (pdf; 1569KB)


Upcoming Events
No upcoming events at this time.
Announcements