Lettuce Variety Trial, 2017
April 3, 2018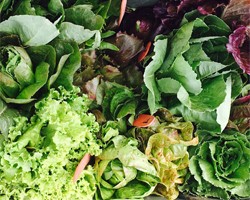 The CCE Eastern NY Commercial Horticulture Program evaluated 20 lettuce varieties in 2017. The outdoor production trial was conducted in Washington County, hosted by Pleasant Valley Farm.
The first seeding occurred May 25 and the second seeding on July 19. The plants were transplanted 21 days after seeding into bareground beds. The lettuce was rated on disease susceptibility, taste, bitterness, and weight of one head.
See photos and data here.


Upcoming Events
Food Safety and Wash/Pack Facilities: Virtual Training
November 16, 2020
A well-thought out Wash/Pack Facility can go a long way in improving produce quality, worker health and safety, and overall efficiency. But how can intentional design impact food safety? This virtual training will help farmers and workers understand the food safety risks present in wash/pack facilities and outline ways in which risks can be minimized.
Announcements