Preventing Muck Soil Erosion by Reducing Tillage in Onion Production
Christy Hoepting, Extension Vegetable Specialist
Cornell Vegetable Program
Last Modified: January 7, 2013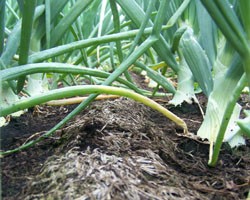 The problem with using conventional tillage practices for onion production on muck soils is that it results in the subsidence of muck via wind and water erosion and oxidation of organic matter at a rate of one foot every 10 years, which is not sustainable for preserving these non-renewable natural resources for long-term productivity. Onions are one of the most valuable vegetable crops produced in New York State with the majority of the 13,000 acres being grown on muck soil. Producing onions using conventional tillage practices results in degradation of soil health and increased subsidence. This leads to increased fertilizer and crop protection chemical input to maintain productivity, resulting only in increased subsidence and declining productivity at ever increasing costs. It is a scientifically proven fact that wind and water erosion, and subsidence decreases as ground cover increases and cultivation decreases. In this project, we developed and evaluated growing onions from direct seed in reduced tillage production systems using oat and wheat cover crops on muck soil on a commercial scale. This was the first attempt of its kind, and a success with the minimum tillage systems producing comparable yields to the conventional system, having reduced onion thrips, bacterial rots and Botrytis leaf blight, and significant reductions in soil compaction and reduced wind erosion compared to the conventional system.
Preventing Erosion of Muck Soils by Reducing Tillage in Onion Production (pdf; 1908KB)


Upcoming Events
2023 Potato Advisory Meeting

December 12, 2023
Canandaigua, NY
This year's Potato Advisory Meeting will include talks from Cornell faculty on insect pest and weed updates, as well as updates from this year's potato variety trials. Following lunch, there will be a round table discussion with fellow potato growers and industry members. DEC credits: 2.0 credits in 10, 1a, 23. This meeting is FREE to attendees and includes lunch!
2024 Finger Lakes Produce Auction Winter Growers Meeting

January 4, 2024
Penn Yan, NY
This annual meeting will present information on insect and disease management in fresh market vegetables in both field and greenhouse (high tunnel) vegetables, primarily for those growing for wholesale auction. Grafting, biological and, where appropriate, conventional spray options will be discussed. Berry production updates will be provided. A general session will include updates from the Food Safety Modernization Act. Judson Reid, Senior Extension Associate with the Cornell Vegetable Program along with CCE staff will instruct participants and facilitate peer-based learnings. DEC recertification credits will be offered.
Announcements