Eastern Organic Broccoli Webinar Recording
January 23, 2019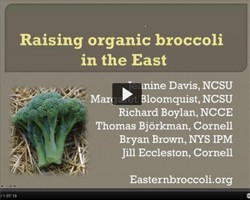 In this webinar, The Eastern Broccoli Project presents information of value to those raising Organic broccoli in the Eastern US.
Organic nutrition for a nitrogen-hungry crop
Weed management in high fertility and short season
Insect management amid many hungry pests
Varieties suitable for organic production in the East
The market for organic broccoli
Watch the recording of the webinar.

More information on this topic can be found at easternbroccoli.org


Upcoming Events
No upcoming events at this time.
Announcements