Feasibility of Reducing Slug Damage in Cabbage
Christy Hoepting, Extension Vegetable Specialist
Cornell Vegetable Program
Last Modified: March 17, 2014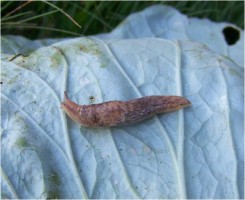 Slugs are an increasing threat to cabbage production: The board of the New York Cabbage Research and Development Program made slug control one of their highest research priorities for the first time in 2009. Slugs are considered a sporadic pest in cabbage and are favored by cool and moist conditions, especially where crop residues are left on the soil surface. In conventional production of cabbage, slugs tend to be a problem later in the growing season along tree lines and hedgerows and in weedy patches within the field. Slugs leave large holes in the leaves with the veins intact, and can be a contaminant in the heads when they squeeze between the leaves. During the cool wet growing season of 2009, slug contaminants were the cause of several rejected loads of cabbage in New York. It is predicted that the frequency of slug problems in cabbage will increase, because more cabbage is being grown in rotation following field corn. The newer varieties of field corn are Bt-tolerant and have tougher stalks that take longer to break down, thus, these fields have more crop residue and are more favorable for slugs. It is worthwhile to investigate whether there are cost effective means for growers to manage sporadic infestations of slugs in cabbage.
View the exciting results from our 2010 trial in the final report that follows.
Feasibility of Reducing Slug Damage in Cabbage: Final Report 2010 (pdf; 2168KB)


Upcoming Events
Finger Lakes Produce Auction Educational Meeting

January 3, 2019
8:30 AM - 3:00 PM
Penn Yan, NY
This meeting is our annual winter educational event for Finger Lakes Produce Auction growers. This year we focus on disease management in cole crops, strawberries, food safety and greenhouse flowers. 2.0 recertification credits in private vegetable category.
Ontario Produce Auction Winter Growers Meeting

January 9, 2019
9:30 AM - 2:30 PM
Stanley, NY
This meeting is our annual winter educational event for Ontario Produce Auction growers. This year we focus on disease management in high tunnel tomatoes, vine crops and greenhouse flowers. Grower and buyer panels will be presented as well irrigation and plastic mulch. DEC pesticide applicator recertification credits have been requested.
2019 Empire State Producers EXPO

January 15 - January 17, 2019
1.25 hr sessions throughout each day
Syracuse, NY
The 2019 Empire State Producers Expo combines the major fruit, flower and vegetable associations of New York State in order to provide a comprehensive trade show and educational conference for New York producers, as well as the surrounding states and Eastern Canada.
Announcements
Checklist for Cleaning a Root Barrel Washer
Don't miss those hard-to-reach places in your root barrel washer! Here is a
checklist
of areas to remember to clean to obtain an acceptable level of cleanliness completed in a reasonable about of time. Critical cleaning points are identified.
Cornell Vegetable Program - Cornell Cooperative Extension
Your Trusted Source for Research-Based Knowledge