Feasibility of Reducing Slug Damage in Cabbage
Christy Hoepting, Extension Vegetable Specialist
Cornell Vegetable Program
Last Modified: March 17, 2014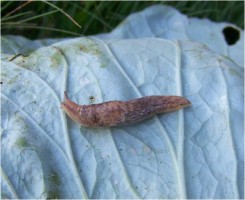 Slugs are an increasing threat to cabbage production: The board of the New York Cabbage Research and Development Program made slug control one of their highest research priorities for the first time in 2009. Slugs are considered a sporadic pest in cabbage and are favored by cool and moist conditions, especially where crop residues are left on the soil surface. In conventional production of cabbage, slugs tend to be a problem later in the growing season along tree lines and hedgerows and in weedy patches within the field. Slugs leave large holes in the leaves with the veins intact, and can be a contaminant in the heads when they squeeze between the leaves. During the cool wet growing season of 2009, slug contaminants were the cause of several rejected loads of cabbage in New York. It is predicted that the frequency of slug problems in cabbage will increase, because more cabbage is being grown in rotation following field corn. The newer varieties of field corn are Bt-tolerant and have tougher stalks that take longer to break down, thus, these fields have more crop residue and are more favorable for slugs. It is worthwhile to investigate whether there are cost effective means for growers to manage sporadic infestations of slugs in cabbage.
View the exciting results from our 2010 trial in the final report that follows.
Feasibility of Reducing Slug Damage in Cabbage: Final Report 2010 (pdf; 2168KB)


Upcoming Events
CANCELED: Women in Agriculture (WAVES) Discussion Group: Auxiliary Farm Income
November 11, 2019
M 6:00pm - 7:30pm
Warsaw, NY
Due to the inclement weather, we have had to cancel tonight's discussion group meeting. Stay warm out there! CVP will repost the event if we are able to reschedule for a different date - check back soon!

The final Women in Agriculture (WAVES) meeting, focused on auxiliary farm income, will be held Monday, November 11, 2019 at Burley's Berries and Blooms in Warsaw.
Our host, Megan Burley, runs a creative and diversified farm that uses the existing farm infrastructure and landscape assets to augment her business's primary strawberry and cut flower income. Megan will teach participants how to use farm products to craft unique, value added fall and winter wreaths to extend your marketing season and supplement your farm product offerings. Megan can also discuss how social media helps promote her auxiliary farm products to a broader audience.
Additionally, we will be discussing Christmas Tree Production as an alternative use of farmland. Katherine Humphrey of All Western Evergreen Nursery and Christmas Tree Farm in Springwater, NY will be present to discuss Christmas tree/tree production.
Farm Food Safety 2-Day Training with GAPs
December 3 - December 4, 2019
Tues-Weds, 8:30am - 4:30pm
East Aurora, NY
This training is geared for fresh produce farms looking to learn and implement food safety practices into their operations. If you are looking to find new markets, many buyers are requiring food safety training. Under the GAPs (Good Agricultural Practices) program this training will help prepare you for implementing food safety practices and move you forward for audit/certification through NY State Dept of Agriculture. If you are looking to sell to farm to school programs, many school districts require a training course.
2019 Processing Vegetable Crops Advisory Meeting

December 17, 2019
9:30am - 12:10pm, 1pm - 2pm, and 2pm - 3:30pm
Batavia, NY
All are invited to attend and discuss the 2019 season for each crop, meet the new Cornell Weed Scientist and discuss weed management concerns, and receive updates on research conducted during 2019. Separate DEC and CCA credits will be available for each of the 3 crop meetings. The meeting is free of charge and there is no registration required.
Announcements