Harvest Considerations for Garlic
Crystal Stewart, Extension Vegetable Specialist
Eastern New York Commercial Horticulture
August 7, 2012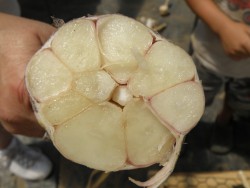 Normally we think of garlic harvest time being somewhere around mid to late July, but very little about this year is normal! Garlic is maturing considerably ahead of schedule, with some growers on light soil or plastic already beginning to pull some varieties now. In some cases the plants are not dying back on schedule with the bulb, so don't just use that as an indicator. If you have had any foliar disease or thrips feeding, the foliage may be ahead of the bulbs. If your garlic has been kept very healthy and well watered the leaves may actually be behind. I have been pulling a fair amount of garlic in the last few days which only has a couple of leaves dead but which will probably be ready to harvest very early next week.

If leaves aren't the best indicator of maturity, how else can you tell? The best indicator is how the cloves are filling the wrapper leaves. Take a couple of average looking plants from each variety, and cut them in half perpendicular to the stem so that you are cutting through all of the cloves. Each clove should be tight in its wrapper leaves. If there is any give when you squeeze the bulb, or the wrapper leaves seem a little loose around the cloves the garlic will continue to expand for a little while longer (figure 1). A few of the outer wrapper leaves will probably be breaking down. That is normal.

You can also look at the shape of each clove. Cloves start out being more or less round, and expand to more of a wedge shape (figure 1). As garlic reaches full maturity, the cloves will pull very slightly away from the scape on hardneck varieties.

If you let the garlic stay in the ground too long, too many wrapper leaves will decay and the cloves will continue to expand until the garlic actually splits open. At this point the garlic becomes virtually unmarketable. Make sure that you check your garlic every few days, especially as we move into another warm stretch of weather.

As you are harvesting, keep in mind that you want to reduce the amount of water that you bring into your drying area and you want to avoid scalding your garlic during harvest. If you can harvest early in the morning (before 11 or so, depending on how hot the day is) on a dry day, then clean in the shade during the afternoon, you should have the best results possible. Allowing garlic to sit out in the field exposed to the sun can result in sun scalding, which will cause affected cloves to break down. If you have to harvest in wet weather try to remove as much mud as possible and to get any foliage you leave on the plant as dry as possible before moving it into the curing area. The higher the relative humidity is in your curing area, the slower the garlic will dry down. The slower the garlic dries, the more potential there is for disease. Dry garlic means lower relative humidity right from the start!




Upcoming Events
2018 NYS Dry Bean Meeting

March 6, 2018
9:30 AM - 2:30 PM
Batavia, NY
Join us for research and production updates on dry bean varieties and bean breeding, weed management, Western bean cutworm, and white mold disease. A market analysis will be provided as well. We will review research priorities and gather suggestions for future educational programs.
Season Extension with High Tunnels: Know Before You Grow
March 6 - April 10, 2018
Every Tuesday, 6:30 PM - 8:00 PM
Adding weeks to either end of your growing season can mean attaining a premium for having products available well before (or long after) other local growers. But the structures that make this possible --(unheated plastic-covered "high tunnels" or "hoop houses") can cost a lot of money, and they bring special management considerations that need to be understood in order to be profitable additions to your farm.
Offered as an online course through the Cornell Small Farms Program, this course (BF220) is meant for farmers who already have some experience successfully growing vegetables outdoors and are exploring high tunnels as a way to expand the season or improve plant quality. Information will be focused on using high tunnels in colder climates (US Climate Zones 4-6), but can be adapted to other growing regions.
Pre-Season Onion Weed Management Meeting (Wayne County)
March 13, 2018
10:00 AM - 12:00 Noon
Newark, NY
CVP Onion Specialist Christy Hoepting will provide an informal review of the 2017 Cornell onion herbicide research trials followed by a casual roundtable discussion of weed control in 2018, improved control of problem weeds, threshold for crop injury, and identifying questions/treatments for 2018 herbicide trials.
Announcements
Vegetable Sizing Templates Available
To assist farmers looking to sell into wholesale markets,
vegetable sizing templates
are now available for bell peppers, broccoli, Brussels sprouts, cauliflower, cucumbers, eggplant, potatoes, tomatoes, zucchini and summer squash. The crop templates are scaled to size (8.5 x 11 paper). They can be printed and used to create sizing templates to be used by workers on the wash and pack lines. Additional grading resources are available too.
Empire State Producers EXPO Proceedings Available
Proceedings from the Empire State Producers EXPO
conference from 2011-2018 are available online.
Cornell Commercial Vegetable Guidelines Available
The
2018 Cornell Integrated Crop and Pest Management Guidelines for Commercial Vegetable Production are now available!
Written by Cornell University specialists, this publication is designed to offer producers, seed and chemical dealers, and crop consultants practical information on growing and managing vegetable crops in New York State. Topics include general culture, nutrient management, transplant production, postharvest handling, organic production, and managing common vegetable crop pest concerns. A
preview of the Vegetable Guidelines
can be seen online.
Highlighted changes in the 2018 Vegetable Guidelines include:
Updated pesticide options for economically important vegetable crop pests.
Significantly revised pest management practices.
New onion and sweet corn IPM scouting report forms.
Cornell Crop and Pest Management Guidelines are available as a print copy ($41), online-only access ($41), or a package combining print and online access ($57.50). Shipping charges will be added to your order. Cornell Guidelines can be obtained through your local Cornell Cooperative Extension office, or
from the Cornell Store at Cornell University
or call (844) 688-7620.
Growing for Wholesale Guidelines Available
Grading and packing guidelines are now available for 16 commonly grown specialty crops in NYS: broccoli crowns, Brussels sprouts, corn, green peppers, cucumbers, green cabbage, red cabbage, savory cabbage, cauliflower, eggplant, green beans, jalapenos, poblanos, Hungarian hot peppers, summer squash, and zucchini.
Acceptable quality standards and common defects that should be sorted out on the grading line are depicted in these resources, both visually and in outline form. Find all of the
grading sheets here
.
Cornell Vegetable Program - Cornell Cooperative Extension
Your Trusted Source for Research-Based Knowledge