Insecticide Programs to Consider for Onion Thrips Control in Onion in 2023
Christy Hoepting, Extension Vegetable Specialist
Cornell Vegetable Program
June 12, 2023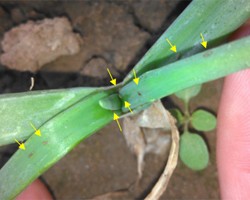 Guidelines for using insecticides to manage onion thrips in onion fields in the Great Lakes region continue to evolve as we gain more experience using them under various situations. The following guidelines provide multiple scenarios for managing onion thrips over the season in New York. The major factors used to create these guidelines are efficacy of products under varying levels of thrips pressure and the desire to follow insecticide resistance management principles.

Disclaimer: There are other insecticides labeled for use on onion for onion thrips management that also may be effective, but that are not included in these guidelines. These guidelines have been developed based on our personal experience assessing the efficacy of many different products in commercial onion fields or by assessing their performance after application by New York onion growers in their fields.
Insecticide Programs to Consider for Onion Thrips Control in Onion, 2023 (pdf; 417KB)
also includes 'Scouting Tips for Onion Thrips in Onions'


Upcoming Events
2023 Potato Advisory Meeting

December 12, 2023
Canandaigua, NY
This year's Potato Advisory Meeting will include talks from Cornell faculty on insect pest and weed updates, as well as updates from this year's potato variety trials. Following lunch, there will be a round table discussion with fellow potato growers and industry members. DEC credits: 2.0 credits in 10, 1a, 23. This meeting is FREE to attendees and includes lunch!
2024 Finger Lakes Produce Auction Winter Growers Meeting

January 4, 2024
Penn Yan, NY
This annual meeting will present information on insect and disease management in fresh market vegetables in both field and greenhouse (high tunnel) vegetables, primarily for those growing for wholesale auction. Grafting, biological and, where appropriate, conventional spray options will be discussed. Berry production updates will be provided. A general session will include updates from the Food Safety Modernization Act. Judson Reid, Senior Extension Associate with the Cornell Vegetable Program along with CCE staff will instruct participants and facilitate peer-based learnings. DEC recertification credits will be offered.
Announcements