Why Aren't My Tomatoes Ripening?
Steve Reiners, Co-Team Leader, Cornell University
Eastern New York Commercial Horticulture
August 22, 2012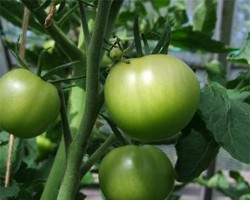 With all of the hot weather we have experienced this summer, growers were expecting their tomatoes to ripen very quickly. Unfortunately, just the opposite is happening. Ripening seems very slow, almost like what we see in the autumn when temperatures are much cooler.

So what's happening? It takes six to eight weeks from the time of pollination until tomato fruit reach full maturity. The length of time depends on the variety grown and of course, the weather conditions. The optimum temperature for ripening tomatoes is 70 to 75F. When temperatures exceed 85 to 90 F, the ripening process slows significantly or even stops. At these temperatures, lycopene and carotene, pigments responsible for giving the fruit their typical orange to red appearance cannot be produced. As a result, the fruit can stay in a mature green phase for quite some time.

Light conditions have very little to do with ripening. Tomatoes do not require light to ripen and in fact, fruit exposed to direct sunlight will heat to levels that inhibit pigment synthesis. Direct sun can also lead to sunscald of fruit. Do not remove leaves in an effort to ripen fruit. Also, soil fertility doesn't play much of a role. We do know that high levels of magnesium and low levels of potassium can lead to conditions like blotchy or uneven ripening or yellow shoulder disorder. But the slowness to ripen is not likely due to soil conditions and adding additional fertilizer will do nothing to quicken ripening.

If you absolutely cannot wait, some growers will remove fruit that are showing the first color changes. These fruit, in the a mature green or later phase, could be stored at room temperature (70-75F) in the dark. A more enclosed environment would be best as ethylene gas, released from fruit as they ripen, will stimulate other fruit to ripen. If temperatures remain high outdoors, these picked fruit will ripen more quickly, perhaps by as much as five days. As far as flavor, the greener fruit should develop flavor and color similar to what you would get if field ripened. The key is picking them when they are showing the first signs of ripening (no earlier) and keeping them at room temperature. Do not refrigerate, as this will absolutely destroy their flavor.




Upcoming Events
Veggie Farming Webinar Series, Part 2: From Season-Long Care to Harvest
March 1 - March 29, 2017
7:00 PM - 8:30 PM Wednesday evenings
This five-week course online (BF121) on Wednesday evenings in March covers vegetable production from transplanting to harvest, including information on in-season fertility, integrated pest management, weed control options, harvesting strategies, and tips for marketing your products. Designed for aspiring farmers and those with at least one growing season of vegetable farming experience. You should already have basic understanding of how to select crops, manage bed prep, seeding, and transplanting.
2017 NYS Dry Bean Meeting

March 6, 2017
9:30 AM - 2:30 PM
Batavia, NY
Join us for research and production updates on dry bean varieties and bean breeding, weed management, Western bean cutworm, and white mold disease. There will also be an update on food safety practices and documentation required by buyers. We will also review research priorities and gather suggestions for future educational programs.
2017 WNY Winter Fresh Market Vegetable Meeting (Eastern region)

March 7, 2017
8:30 AM - 3:30 PM
Newark, NY
Regional Fresh Market Winter Vegetable Meetings will be hosted by the Cornell Vegetable Program to discuss results from 2016 research trials and present information on pest management. Program topics will include an update on wildlife management, high tunnel nutrient management update, vegetable disease update including the new iPiPE Program in vegetables, new Climate Smart Farming Tools, cover crops and soil health, an update on Food Safety and Modernization Act and what you need to do for your farm, and other regional research and program updates.
Announcements
Student Research Internships Working with the CVP
The Cornell Vegetable Program is looking to hire two student research interns this summer to assist in scouting fresh market vegetables in western New York. This internship will start in May, working alongside Darcy Telenko, as part of the iPiPE CAP (Integrated Pest Information Platform for Extension and Education, Cooperative Agricultural Project) internship program. iPiPE is committed to investing in the coaching and development of future agricultural scientists/extension educators through a limited term internship experience in an applied environment. The purpose of the program is to learn how to scout for pests in the field and contribute observations to the iPiPE platform.
These positions are 5-month appointments (39 hours/week) and will be located in the CCE Erie County Office (East Aurora, New York).
Applicants must apply online.
View the full job description, qualifications, and application instructions.
Empire State Producers EXPO Proceedings Available
Proceedings from the Empire State Producers EXPO
conference from 2011-2017 are available online.
2017 Cornell Vegetable Guidelines Available
The 2017 edition of the

Cornell Integrated Crop and Pest Management Guidelines for Commercial Vegetable Production is now available. This annual publication provides up-to-date vegetable crop production information for New York State. It is designed as a practical guide for vegetable crop producers, crop consultants, ag chemical dealers, and others who advise vegetable crop producers.

In addition to the annually revised pesticide and crop production information, highlighted changes in this edition of the
Vegetable Guidelines
include:
Addition of Dickeya blackleg on potato as a disease of concern.
Updated regulatory considerations for organic vegetable production.
Revised European corn borer management strategies for beans and potatoes.
The Cornell Guidelines are available as a print copy ($41 plus shipping), online-only access ($41), or a package that combines print and online access ($57.50 plus shipping). Cornell Guidelines can be purchased through your local Cornell Cooperative Extension office or from the Cornell Store at Cornell University. To order from the Cornell Store, call (844) 688-7620 or
order online
.
NEW! Pesticide Product Search Online
The NYS Department of Environmental Conservation (NYSDEC) Bureau of Pest Management has released a new
pesticide product registration database
. When visiting the webpage, please select the Products icon on the right side of the page to perform product searches.
This pesticide search database is replacing the Product, Ingredient, and Manufacturer System (PIMS) product database that has been hosted by Cornell University since its inception.
The new search database includes many added features, including site and pest searches. Additionally, updates to the product data and labeling will be reflected instantaneously.
Cornell Vegetable Program - Cornell Cooperative Extension
Your Trusted Source for Research-Based Knowledge