Why Aren't My Tomatoes Ripening?
Steve Reiners, Co-Team Leader, Cornell University
Eastern New York Commercial Horticulture
August 22, 2012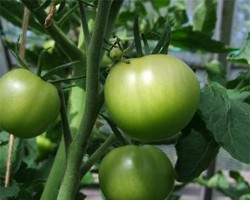 With all of the hot weather we have experienced this summer, growers were expecting their tomatoes to ripen very quickly. Unfortunately, just the opposite is happening. Ripening seems very slow, almost like what we see in the autumn when temperatures are much cooler.

So what's happening? It takes six to eight weeks from the time of pollination until tomato fruit reach full maturity. The length of time depends on the variety grown and of course, the weather conditions. The optimum temperature for ripening tomatoes is 70 to 75F. When temperatures exceed 85 to 90 F, the ripening process slows significantly or even stops. At these temperatures, lycopene and carotene, pigments responsible for giving the fruit their typical orange to red appearance cannot be produced. As a result, the fruit can stay in a mature green phase for quite some time.

Light conditions have very little to do with ripening. Tomatoes do not require light to ripen and in fact, fruit exposed to direct sunlight will heat to levels that inhibit pigment synthesis. Direct sun can also lead to sunscald of fruit. Do not remove leaves in an effort to ripen fruit. Also, soil fertility doesn't play much of a role. We do know that high levels of magnesium and low levels of potassium can lead to conditions like blotchy or uneven ripening or yellow shoulder disorder. But the slowness to ripen is not likely due to soil conditions and adding additional fertilizer will do nothing to quicken ripening.

If you absolutely cannot wait, some growers will remove fruit that are showing the first color changes. These fruit, in the a mature green or later phase, could be stored at room temperature (70-75F) in the dark. A more enclosed environment would be best as ethylene gas, released from fruit as they ripen, will stimulate other fruit to ripen. If temperatures remain high outdoors, these picked fruit will ripen more quickly, perhaps by as much as five days. As far as flavor, the greener fruit should develop flavor and color similar to what you would get if field ripened. The key is picking them when they are showing the first signs of ripening (no earlier) and keeping them at room temperature. Do not refrigerate, as this will absolutely destroy their flavor.




Upcoming Events
Muck Donut Hour Every Tuesday
June 6 - August 15, 2017
8:30 AM - 9:30 AM
Elba, NY
Meet with Cornell Vegetable Program Specialist Christy Hoepting every Tuesday morning to ask questions and share your observations. Grower experience is combined with research and scouting information for a whole lot of talk about growing ONIONS!
Fresh Market Minutes - Every Other Tuesday - Eden Valley
June 6 - August 29, 2017
9:00 AM - 10:00 AM
Eden, NY
New this year
-- Meet with the Cornell Vegetable Program Specialist Darcy Telenko every other Tuesday morning to ask questions and share your observations in fresh market vegetables.
Fresh Market Minutes - Every Other Tuesday - Ransomville
June 13 - September 5, 2017
9:00 AM - 10:00 AM
Ransomville, NY
New this year
-- Meet with the Cornell Vegetable Program Specialist Darcy Telenko every other Tuesday morning to ask questions and share your observations in fresh market vegetables.
Announcements
Precision Ag Specialist Position Available
Cornell Cooperative Extension seeks a qualified candidate to provide leadership and educational programming to advance precision agriculture and new technology applications to production and management practices that will sustain and enhance the profitability of the field crops and vegetable industries in Western New York.
The position is a joint appointment with two Cornell Cooperative Extension Regional Agriculture Teams, the Cornell Vegetable Program and the
Northwest New York Dairy, Livestock & Field Crops Team
. With this position, we are adding capacity to our Extension program. We hope to find a candidate who will bring additional skills in crop management to complement our respective teams as well.
More information and application instructions are available at
Cornell Careers
. Questions may be directed to CVP Team Leader,
Julie Kikkert
.
Empire State Producers EXPO Proceedings Available
Proceedings from the Empire State Producers EXPO
conference from 2011-2017 are available online.
2017 Cornell Vegetable Guidelines Available
The 2017 edition of the

Cornell Integrated Crop and Pest Management Guidelines for Commercial Vegetable Production is now available. This annual publication provides up-to-date vegetable crop production information for New York State. It is designed as a practical guide for vegetable crop producers, crop consultants, ag chemical dealers, and others who advise vegetable crop producers.

In addition to the annually revised pesticide and crop production information, highlighted changes in this edition of the
Vegetable Guidelines
include:
Addition of Dickeya blackleg on potato as a disease of concern.
Updated regulatory considerations for organic vegetable production.
Revised European corn borer management strategies for beans and potatoes.
The Cornell Guidelines are available as a print copy ($41 plus shipping), online-only access ($41), or a package that combines print and online access ($57.50 plus shipping). Cornell Guidelines can be purchased through your local Cornell Cooperative Extension office or from the Cornell Store at Cornell University. To order from the Cornell Store, call (844) 688-7620 or
order online
.
Cornell Vegetable Program - Cornell Cooperative Extension
Your Trusted Source for Research-Based Knowledge