Why Aren't My Tomatoes Ripening?
Steve Reiners, Co-Team Leader, Cornell University
Eastern New York Commercial Horticulture
August 22, 2012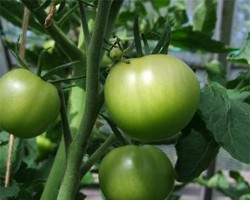 With all of the hot weather we have experienced this summer, growers were expecting their tomatoes to ripen very quickly. Unfortunately, just the opposite is happening. Ripening seems very slow, almost like what we see in the autumn when temperatures are much cooler.
So what's happening? It takes six to eight weeks from the time of pollination until tomato fruit reach full maturity. The length of time depends on the variety grown and of course, the weather conditions. The optimum temperature for ripening tomatoes is 70 to 75F. When temperatures exceed 85 to 90 F, the ripening process slows significantly or even stops. At these temperatures, lycopene and carotene, pigments responsible for giving the fruit their typical orange to red appearance cannot be produced. As a result, the fruit can stay in a mature green phase for quite some time.
Light conditions have very little to do with ripening. Tomatoes do not require light to ripen and in fact, fruit exposed to direct sunlight will heat to levels that inhibit pigment synthesis. Direct sun can also lead to sunscald of fruit. Do not remove leaves in an effort to ripen fruit. Also, soil fertility doesn't play much of a role. We do know that high levels of magnesium and low levels of potassium can lead to conditions like blotchy or uneven ripening or yellow shoulder disorder. But the slowness to ripen is not likely due to soil conditions and adding additional fertilizer will do nothing to quicken ripening.
If you absolutely cannot wait, some growers will remove fruit that are showing the first color changes. These fruit, in the a mature green or later phase, could be stored at room temperature (70-75F) in the dark. A more enclosed environment would be best as ethylene gas, released from fruit as they ripen, will stimulate other fruit to ripen. If temperatures remain high outdoors, these picked fruit will ripen more quickly, perhaps by as much as five days. As far as flavor, the greener fruit should develop flavor and color similar to what you would get if field ripened. The key is picking them when they are showing the first signs of ripening (no earlier) and keeping them at room temperature. Do not refrigerate, as this will absolutely destroy their flavor.


Upcoming Events
CANCELED: Women in Agriculture (WAVES) Discussion Group: Auxiliary Farm Income
November 11, 2019
M 6:00pm - 7:30pm
Warsaw, NY
Due to the inclement weather, we have had to cancel tonight's discussion group meeting. Stay warm out there! CVP will repost the event if we are able to reschedule for a different date - check back soon!

The final Women in Agriculture (WAVES) meeting, focused on auxiliary farm income, will be held Monday, November 11, 2019 at Burley's Berries and Blooms in Warsaw.
Our host, Megan Burley, runs a creative and diversified farm that uses the existing farm infrastructure and landscape assets to augment her business's primary strawberry and cut flower income. Megan will teach participants how to use farm products to craft unique, value added fall and winter wreaths to extend your marketing season and supplement your farm product offerings. Megan can also discuss how social media helps promote her auxiliary farm products to a broader audience.
Additionally, we will be discussing Christmas Tree Production as an alternative use of farmland. Katherine Humphrey of All Western Evergreen Nursery and Christmas Tree Farm in Springwater, NY will be present to discuss Christmas tree/tree production.
Farm Food Safety 2-Day Training with GAPs
December 3 - December 4, 2019
Tues-Weds, 8:30am - 4:30pm
East Aurora, NY
This training is geared for fresh produce farms looking to learn and implement food safety practices into their operations. If you are looking to find new markets, many buyers are requiring food safety training. Under the GAPs (Good Agricultural Practices) program this training will help prepare you for implementing food safety practices and move you forward for audit/certification through NY State Dept of Agriculture. If you are looking to sell to farm to school programs, many school districts require a training course.
2019 Processing Vegetable Crops Advisory Meeting

December 17, 2019
9:30am - 12:10pm, 1pm - 2pm, and 2pm - 3:30pm
Batavia, NY
All are invited to attend and discuss the 2019 season for each crop, meet the new Cornell Weed Scientist and discuss weed management concerns, and receive updates on research conducted during 2019. Separate DEC and CCA credits will be available for each of the 3 crop meetings. The meeting is free of charge and there is no registration required.
Announcements