Why Aren't My Tomatoes Ripening?
Steve Reiners, Co-Team Leader, Cornell University
Eastern New York Commercial Horticulture
August 22, 2012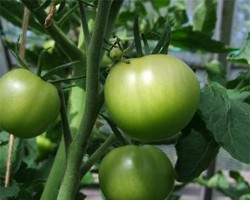 With all of the hot weather we have experienced this summer, growers were expecting their tomatoes to ripen very quickly. Unfortunately, just the opposite is happening. Ripening seems very slow, almost like what we see in the autumn when temperatures are much cooler.

So what's happening? It takes six to eight weeks from the time of pollination until tomato fruit reach full maturity. The length of time depends on the variety grown and of course, the weather conditions. The optimum temperature for ripening tomatoes is 70 to 75F. When temperatures exceed 85 to 90 F, the ripening process slows significantly or even stops. At these temperatures, lycopene and carotene, pigments responsible for giving the fruit their typical orange to red appearance cannot be produced. As a result, the fruit can stay in a mature green phase for quite some time.

Light conditions have very little to do with ripening. Tomatoes do not require light to ripen and in fact, fruit exposed to direct sunlight will heat to levels that inhibit pigment synthesis. Direct sun can also lead to sunscald of fruit. Do not remove leaves in an effort to ripen fruit. Also, soil fertility doesn't play much of a role. We do know that high levels of magnesium and low levels of potassium can lead to conditions like blotchy or uneven ripening or yellow shoulder disorder. But the slowness to ripen is not likely due to soil conditions and adding additional fertilizer will do nothing to quicken ripening.

If you absolutely cannot wait, some growers will remove fruit that are showing the first color changes. These fruit, in the a mature green or later phase, could be stored at room temperature (70-75F) in the dark. A more enclosed environment would be best as ethylene gas, released from fruit as they ripen, will stimulate other fruit to ripen. If temperatures remain high outdoors, these picked fruit will ripen more quickly, perhaps by as much as five days. As far as flavor, the greener fruit should develop flavor and color similar to what you would get if field ripened. The key is picking them when they are showing the first signs of ripening (no earlier) and keeping them at room temperature. Do not refrigerate, as this will absolutely destroy their flavor.




Upcoming Events
CANCELLED: Farm Food Safety and Purchasing Locally Grown Produce: What's It All Mean?
October 17, 2017
9:30 AM - 3:00 PM
Geneva, NY
This event has been cancelled due to low registration numbers. Refunds will be issued to those that pre-registered.

Attention locally-grown food buyers, purchasers, distributors, farm-to-school or -institution programs, chefs, and healthy eating programmers:
Every person that buys locally grown produce directly from farmers should have a basic understanding of the food safety guidelines and practices that the farmers follow. What is GAPs and why is it important to me? This training will allow you to ask your questions and you will leave having a clearer understanding of standards, regulatory requirements, and the practices followed by farmers to reduce microbial risk.

This workshop will cover programs like GAPs and HGAPs as well as the new federal regulations under the Food Safety Modernization Act. We will also discuss the regulations governing locally processed foods.
2018 Becker Forum: Farm Employment Practices - Planning for the Future
January 15, 2018

Syracuse, NY
The 2018 Becker Forum will take place on Monday, January 15, one day prior to the opening of the Empire State Producers Expo. The forum will focus on agricultural workforce issues with three general themes: securing a legal agricultural workforce, labor law compliance and H-2A program topics.
2018 Empire State Producers EXPO

January 16 - January 18, 2018
Morning, Mid-day, and Afternoon Sessions
Syracuse, NY
The 2018 Empire State Producers Expo combines the major fruit, flower and vegetable associations of New York State in order to provide a comprehensive trade show and educational conference for the fruit and vegetable growers of this state, as well as the surrounding states and Eastern Canada.
Announcements
Local Farmers Support Hurricane Victims
A truckload of produce left Hansen Farms in Stanley, NY in September destined for Florida to feed hurricane victims. Local donations were made by
Hansen Farms
Reeves Farms
Red Jacket Orchards
Pederson Farms
Jordan Farms
Transportation was coordinated by Maire Ullrich of the ENY Commercial Horticulture Program through Feeding America.
Read the full story and see great photos of the Finger Lakes pick-up
.
Another load of hard crop donations will be leaving WNY from Torrey Farms in Elba, NY the week of November 13. If you are interested in donating pallets of crops,
contact Maire Ullrich
. A record of donation will be provided.
Growing for Wholesale Guidelines Available
Grading and packing guidelines are now available for 16 commonly grown specialty crops in NYS: broccoli crowns, Brussels sprouts, corn, green peppers, cucumbers, green cabbage, red cabbage, savory cabbage, cauliflower, eggplant, green beans, jalapenos, poblanos, Hungarian hot peppers, summer squash, and zucchini.
Acceptable quality standards and common defects that should be sorted out on the grading line are depicted in these resources, both visually and in outline form. Find all of the
grading sheets here
.
Empire State Producers EXPO Proceedings Available
Proceedings from the Empire State Producers EXPO
conference from 2011-2017 are available online.
Cornell Vegetable Program - Cornell Cooperative Extension
Your Trusted Source for Research-Based Knowledge