Why Aren't My Tomatoes Ripening?
Steve Reiners, Co-Team Leader, Cornell University
Eastern New York Commercial Horticulture
August 22, 2012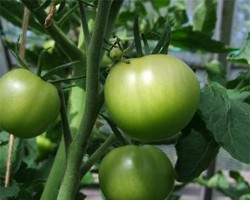 With all of the hot weather we have experienced this summer, growers were expecting their tomatoes to ripen very quickly. Unfortunately, just the opposite is happening. Ripening seems very slow, almost like what we see in the autumn when temperatures are much cooler.
So what's happening? It takes six to eight weeks from the time of pollination until tomato fruit reach full maturity. The length of time depends on the variety grown and of course, the weather conditions. The optimum temperature for ripening tomatoes is 70 to 75F. When temperatures exceed 85 to 90 F, the ripening process slows significantly or even stops. At these temperatures, lycopene and carotene, pigments responsible for giving the fruit their typical orange to red appearance cannot be produced. As a result, the fruit can stay in a mature green phase for quite some time.
Light conditions have very little to do with ripening. Tomatoes do not require light to ripen and in fact, fruit exposed to direct sunlight will heat to levels that inhibit pigment synthesis. Direct sun can also lead to sunscald of fruit. Do not remove leaves in an effort to ripen fruit. Also, soil fertility doesn't play much of a role. We do know that high levels of magnesium and low levels of potassium can lead to conditions like blotchy or uneven ripening or yellow shoulder disorder. But the slowness to ripen is not likely due to soil conditions and adding additional fertilizer will do nothing to quicken ripening.
If you absolutely cannot wait, some growers will remove fruit that are showing the first color changes. These fruit, in the a mature green or later phase, could be stored at room temperature (70-75F) in the dark. A more enclosed environment would be best as ethylene gas, released from fruit as they ripen, will stimulate other fruit to ripen. If temperatures remain high outdoors, these picked fruit will ripen more quickly, perhaps by as much as five days. As far as flavor, the greener fruit should develop flavor and color similar to what you would get if field ripened. The key is picking them when they are showing the first signs of ripening (no earlier) and keeping them at room temperature. Do not refrigerate, as this will absolutely destroy their flavor.


Upcoming Events
2019 Chautauqua-Cattaraugus Produce Meeting

January 28, 2019
M 9:30 am - 3:45 pm
Jamestown, NY
This annual winter educational event for the Chautauqua Produce Auction will educate produce growers on pest management, variety selection, and marketing issues in fresh market crops grown for auction. Specific topics include season extension techniques and high tunnels, growing good onions and preventing early die-back, Strawberries 101, managing worms and Alternaria in Cole Crops, lessons learned at the Buffalo Valley Produce Auction, strategic crop management for increased profitability, Spotted Lantern Fly updates, and updates on FSMA, GAPS, and On-Farm Readiness Reviews.
This is a multi-discipline produce meeting featuring expert speakers in vegetable and fruit production and a Q&A panel of experienced, successful growers.
2019 Allegany-Cattaraugus Produce Growers Meeting
January 29, 2019
T 9:30am - 3:30pm
Freedom, NY
A fresh market vegetable meeting for beginner to intermediate growers. The meeting will emphasize grower perspectives and present both organic and conventional management information. Topics include soil health, onions, GAPs, good crop establishment, flower production, and organic tomato production. Lunch included for those pre-registering by noon on January 24th.
Produce Safety Alliance Grower Training Course
February 13, 2019
W Full day program - specific times TBD
Albion, NY
Fruit and vegetable growers and others interested in learning about produce safety, the Food Safety Modernization Act (FSMA) Produce Safety Rule, Good Agricultural Practices (GAPs), and co-management of natural resources and food safety. The PSA Grower Training Course is one way to satisfy the FSMA Produce Safety Rule requirement outlined in § 112.22(c) that requires 'At least one supervisor or responsible party for your farm must have successfully completed food safety training at least equivalent to that received under standardized curriculum recognized as adequate by the Food and Drug Administration.'
Announcements
We're Hiring: VEGETABLE CROPS SPECIALIST
The CCE Cornell Vegetable Program seeks a highly qualified candidate to lead research and educational programming in commercial vegetable production. A focus will be in potato and dry bean production. Additional emphasis will be placed on production and harvest handling practices that impact post-harvest vegetable quality. The Extension Educator will work as part of our regional agriculture team that serves commercial vegetable growers throughout a 14-county region of western and central NY. This position is full-time and will be located in western NY.
Applicants are required to hold a Master's degree, and should have a solid background in vegetable crop production. Experience in potato production and post-harvest handling and storage through formal education and work experience are desired. Applications are due by January 20, 2019.
For more information, visit
http://tiny.cc/Vegetable_WDR_00017327
Wanted: VEG FIELD RESEARCH & EXTENSION ASSISTANT
The CCE Cornell Vegetable Program (CVP) seeks a qualified candidate to provide technical and program support to the CVP Onion and Cole Crops Specialist in carrying out all aspects of research programming including research project design, set-up, data collection, harvest, data entry, analysis and summary, report writing, program evaluation and presentation preparation. Scout for pests weekly on grower farms, summarize scouting data and collect grower pesticide records, prepare annual scouting reports. Maintain accurate records and photo files.
This position is full-time and will be located in Albion, NY (Orleans County) but travel to other CVP counties will be expected during the growing season. Overtime is normal during peak periods (June-August).
Applicants are required to hold an Associate's degree in Agricultural Science (with course work indicating an aptitude for sciences) plus 1+ year of professional experience in agriculture or vegetable production. Applications are due by January 20, 2019.
For more information, visit
http://tiny.cc/Veg_Field_WDR_00017434
2018 Cornell Vegetable Program Year in Review
2018 is behind us but we hope that our team's efforts to enhance New York vegetable production continues well beyond! This year, our Specialists gave presentations at 119 events, sharing our knowledge with 3,535 people.
We continue to conduct on-farm research to help answer the questions of our growers. The Cornell Vegetable Program managed 50 research grants and projects in 2018. We extend our gratitude to the 65 farms and organizations that offered us land, labor, and supplies to support our trials! We also want to thank those farmers that gave generous financial contributions to support our work as well.
We cannot forget to thank the 13 Cooperative Extension Associations that partnered with us this year too. We're excited to be adding Steuben County to our list of participating counties in 2019!
Our
2018 Year in Review brochure
highlights our research and educational projects.