Why Aren't My Tomatoes Ripening?
Steve Reiners, Co-Team Leader, Cornell University
Eastern New York Commercial Horticulture
August 22, 2012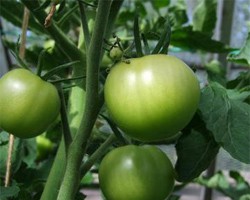 With all of the hot weather we have experienced this summer, growers were expecting their tomatoes to ripen very quickly. Unfortunately, just the opposite is happening. Ripening seems very slow, almost like what we see in the autumn when temperatures are much cooler.

So what's happening? It takes six to eight weeks from the time of pollination until tomato fruit reach full maturity. The length of time depends on the variety grown and of course, the weather conditions. The optimum temperature for ripening tomatoes is 70 to 75F. When temperatures exceed 85 to 90 F, the ripening process slows significantly or even stops. At these temperatures, lycopene and carotene, pigments responsible for giving the fruit their typical orange to red appearance cannot be produced. As a result, the fruit can stay in a mature green phase for quite some time.

Light conditions have very little to do with ripening. Tomatoes do not require light to ripen and in fact, fruit exposed to direct sunlight will heat to levels that inhibit pigment synthesis. Direct sun can also lead to sunscald of fruit. Do not remove leaves in an effort to ripen fruit. Also, soil fertility doesn't play much of a role. We do know that high levels of magnesium and low levels of potassium can lead to conditions like blotchy or uneven ripening or yellow shoulder disorder. But the slowness to ripen is not likely due to soil conditions and adding additional fertilizer will do nothing to quicken ripening.

If you absolutely cannot wait, some growers will remove fruit that are showing the first color changes. These fruit, in the a mature green or later phase, could be stored at room temperature (70-75F) in the dark. A more enclosed environment would be best as ethylene gas, released from fruit as they ripen, will stimulate other fruit to ripen. If temperatures remain high outdoors, these picked fruit will ripen more quickly, perhaps by as much as five days. As far as flavor, the greener fruit should develop flavor and color similar to what you would get if field ripened. The key is picking them when they are showing the first signs of ripening (no earlier) and keeping them at room temperature. Do not refrigerate, as this will absolutely destroy their flavor.




Upcoming Events
2016 Processing Carrot, Sweet Corn, Pea and Lima Bean Advisory

December 8, 2016
12:45 PM - 3:45 PM; complimentary lunch at noon
Batavia, NY
All are invited to discuss processing crop production in New York. Hear ideas and concerns from fellow growers and industry members. Your input is needed to set future research priorities. 2.0 DEC recertification credits available.
2016 Table Beet Advisory Meeting

December 8, 2016
10:00 AM - 12:00 PM; complimentary lunch follows
Batavia, NY
All are invited to discuss table beet production in New York. Hear ideas and concerns from fellow growers and industry members. Your input is needed to set future research priorities. 1.0 DEC recertification credits available.
2017 Produce Auction Growers Production Meeting (Yates)

January 12, 2017
9:30 AM - 2:30 PM
Penn Yan, NY
This meeting will feature sessions on insect control in cole crops, disease resistant tomatoes and cucumbers, food safety and insect management in high tunnels. This is an opportunity to network with other fresh market vegetable growers, to review the season, look forward and learn about the direction of our auction.
Announcements
2017 EXPO Program Now Available
Interested in knowing more information about the educational sessions offered at the 2017 Empire State Producers Expo? The full
Expo program
is now available!
Expo dates, location, and general information
can be found in our Events calendar. Online registration will be available soon through the NYS Vegetable Growers Association.
Spinach Downy Mildew Now in the Northeast
From Meg McGrath, Cornell:
Downy mildew has been found recently in spinach at several farms in the northeastern US. This devastating disease has not been confirmed in the region for several years, thankfully as it has been a major production constraint in California. Pathogens causing downy mildew are Oomycetes and thus are related to the late blight pathogen. They are similar in ability to produce an abundance of wind-dispersed spores capable of moving long distances and to not need leaves to be wet to infect (high humidity is sufficient), plus ability to devastate crops.

All growers with spinach should inspect their plants for symptoms promptly NOW and also in spring plantings to catch if there is carry over or new outbreaks. If downy mildew is suspected, please contact your local extension specialist and send an email to Meg McGrath.

It will be CRITICAL that all high tunnel and overwintering spinach crops with downy mildew be destroyed couple weeks before the start of the spring spinach production season in the region to avoid carry over into 2017. Read more
NEW! Pesticide Product Search Online
The NYS Department of Environmental Conservation (NYSDEC) Bureau of Pest Management has released a new
pesticide product registration database
. When visiting the webpage, please select the Products icon on the right side of the page to perform product searches.
This pesticide search database is replacing the Product, Ingredient, and Manufacturer System (PIMS) product database that has been hosted by Cornell University since its inception.
The new search database includes many added features, including site and pest searches. Additionally, updates to the product data and labeling will be reflected instantaneously.
BMPs for Dickeya in Potato Production
Potato seed tubers harboring
Dickeya dianthicola
are the only confirmed source of this pathogen. It does not appear to be able to survive in soil (including in crop debris) from one growing season to the next. Consequently, rotating with a non-susceptible crop is not a necessary component of the management program.
Best management practices listed in this PDF
, prepared by leading potato experts from the Northeast, are encouraged to minimize potential losses from
Dickeya
.
Cornell Vegetable Program - Cornell Cooperative Extension
Your Trusted Source for Research-Based Knowledge