Why Aren't My Tomatoes Ripening?
Steve Reiners, Co-Team Leader, Cornell University
Eastern New York Commercial Horticulture
August 22, 2012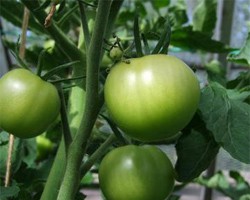 With all of the hot weather we have experienced this summer, growers were expecting their tomatoes to ripen very quickly. Unfortunately, just the opposite is happening. Ripening seems very slow, almost like what we see in the autumn when temperatures are much cooler.

So what's happening? It takes six to eight weeks from the time of pollination until tomato fruit reach full maturity. The length of time depends on the variety grown and of course, the weather conditions. The optimum temperature for ripening tomatoes is 70 to 75F. When temperatures exceed 85 to 90 F, the ripening process slows significantly or even stops. At these temperatures, lycopene and carotene, pigments responsible for giving the fruit their typical orange to red appearance cannot be produced. As a result, the fruit can stay in a mature green phase for quite some time.

Light conditions have very little to do with ripening. Tomatoes do not require light to ripen and in fact, fruit exposed to direct sunlight will heat to levels that inhibit pigment synthesis. Direct sun can also lead to sunscald of fruit. Do not remove leaves in an effort to ripen fruit. Also, soil fertility doesn't play much of a role. We do know that high levels of magnesium and low levels of potassium can lead to conditions like blotchy or uneven ripening or yellow shoulder disorder. But the slowness to ripen is not likely due to soil conditions and adding additional fertilizer will do nothing to quicken ripening.

If you absolutely cannot wait, some growers will remove fruit that are showing the first color changes. These fruit, in the a mature green or later phase, could be stored at room temperature (70-75F) in the dark. A more enclosed environment would be best as ethylene gas, released from fruit as they ripen, will stimulate other fruit to ripen. If temperatures remain high outdoors, these picked fruit will ripen more quickly, perhaps by as much as five days. As far as flavor, the greener fruit should develop flavor and color similar to what you would get if field ripened. The key is picking them when they are showing the first signs of ripening (no earlier) and keeping them at room temperature. Do not refrigerate, as this will absolutely destroy their flavor.




Upcoming Events
2016 Vegetable Pest and Cultural Management Field Meeting - Seneca County

July 27, 2016
7:00 PM - 9:00 PM
Romulus, NY
This course will demonstrate pest management in fresh market vegetables in both field and greenhouse (high tunnel) vegetables; primarily for those growing for wholesale auction. A hands-on demonstration of weed, insect and disease identification in vegetables including management options such as inter-row cover crops, grafting and where appropriate, spray options will be used to educate growers. Judson Reid, Senior Extension Associate with the Cornell Vegetable Program along with CCE associates Telenko and Hadad will instruct participants and facilitate peer-based learning. Details on each topic will focus on field observations at the farm.
Muck Donut Hour Every Tuesday
August 2, 2016
8:30 - 9:30 AM
Elba, NY
Meet with Cornell Vegetable Program Specialist Christy Hoepting every Tuesday morning to ask questions and share your observations.
High Tunnel Pest and Disease Management
August 2, 2016
4:30 PM - 7:30 PM
Phelps, NY
How can you manage your tunnel to limit losses due to pests and disease? This field day will start with identification of common high tunnel pests and diseases and effective organic control strategies, including spraying. Andy Fellenz, with support from NE-SARE, has developed and will demonstrate a boom-style high tunnel sprayer, as well as discuss the proper use of backpack and other relatively low pressure, low flow single-tip sprayers. Variety selection, rotation, cultural practices and spraying all have a place in the overall farm strategy.
Announcements
Cucurbit Downy Mildew Confirmed in WNY
Cucurbit downy mildew has been confirmed in Cattaraugus County. There have also been reports from MI, OH, PA and Ontario Canada.
Characteristic disease symptoms are angular, pale green areas bounded by the leaf veins. They will turn yellow and later necrotic. Under high humidity conditions sporulation will occur on the lower leaf surface. Apply targeted fungicides tank-mixed with protectant fungicides weekly and alternated among available modes of action (FRAC code), starting when there is risk for a specific crop based on forecasting program. Refer to the Cornell Vegetable Guidelines for a complete list of products available. For more information, contact
Robert Hadad
or
Darcy Telenko
.
Cornell High Tunnels Website Redesigned
The
Cornell High Tunnel website
has been redesigned to help farmers profit from the use of high tunnels to extend their growing season and produce higher quality vegetables, fruit and flowers. The site contains information on the different types of structures and the resources for high tunnel profitability. Events, Tweets by Judson Reid, and the latest blog articles are accessible as well.
Assisting Western New York Vegetable Growers
Western New York is a national leader in vegetable production and the largest vegetable producing region in the state of New York, contributing an estimated $280 million to the state's economy each year. The region grows a diverse set of crops including tomatoes, potatoes, sweet corn, pumpkins, cabbage and peppers on large acres, and another 50 crops on smaller plantings.
The Cornell Vegetable Program's video, "Meet the Cornell Vegetable Program" provides an introduction to our team of specialists and how we assist vegetable growers throughout the region. We greatly appreciate that several WNY vegetable growers shared their thoughts on what the Cornell Vegetable Program means to them: Paul Fenton, Batavia; Mark Zittel, Eden; and Matt Mortellaro, Elba.
Watch the video now!
2016 Cornell Vegetable Guidelines Available
The 2016 edition of the Cornell Commercial Vegetable Production Guidelines is available. This annual publication provides up-to-date vegetable crop production information for New York State. It has been designed as a practical guide for vegetable crop producers, crop consultants, and ag suppliers. In addition to the annually revised pesticide and crop production information, this edition also includes the addition of several new pests of concern (seedcorn maggot in beans, leafminers in lettuce and endive, spider mites in peppers, anthracnose in spinach, and powdery mildew in tomatoes), a new table listing biofungicide options for vegetable production, revised management strategies for striped cucumber beetle in cucurbits and Stewart's wilt in sweet corn, and identification of pesticide active ingredients that meet EPA's criteria for acute toxicity to bees.
NOTE: Vegetable Guidelines are no longer be offered for free online. Instead, you will have the option to purchase just a print copy ($33 plus shipping), online version ($33), or a bundle of a print copy plus online access ($46 plus shipping). You can order this publication, or other Cornell Guidelines from the
Cornell Store
at Cornell University at 844-688-7620.
Cornell Vegetable Program - Cornell Cooperative Extension
Your Trusted Source for Research-Based Knowledge