Why Aren't My Tomatoes Ripening?
Steve Reiners, Co-Team Leader, Cornell University
Eastern New York Commercial Horticulture
August 22, 2012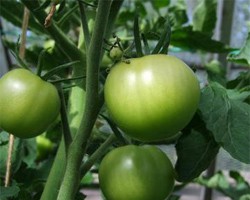 With all of the hot weather we have experienced this summer, growers were expecting their tomatoes to ripen very quickly. Unfortunately, just the opposite is happening. Ripening seems very slow, almost like what we see in the autumn when temperatures are much cooler.

So what's happening? It takes six to eight weeks from the time of pollination until tomato fruit reach full maturity. The length of time depends on the variety grown and of course, the weather conditions. The optimum temperature for ripening tomatoes is 70 to 75F. When temperatures exceed 85 to 90 F, the ripening process slows significantly or even stops. At these temperatures, lycopene and carotene, pigments responsible for giving the fruit their typical orange to red appearance cannot be produced. As a result, the fruit can stay in a mature green phase for quite some time.

Light conditions have very little to do with ripening. Tomatoes do not require light to ripen and in fact, fruit exposed to direct sunlight will heat to levels that inhibit pigment synthesis. Direct sun can also lead to sunscald of fruit. Do not remove leaves in an effort to ripen fruit. Also, soil fertility doesn't play much of a role. We do know that high levels of magnesium and low levels of potassium can lead to conditions like blotchy or uneven ripening or yellow shoulder disorder. But the slowness to ripen is not likely due to soil conditions and adding additional fertilizer will do nothing to quicken ripening.

If you absolutely cannot wait, some growers will remove fruit that are showing the first color changes. These fruit, in the a mature green or later phase, could be stored at room temperature (70-75F) in the dark. A more enclosed environment would be best as ethylene gas, released from fruit as they ripen, will stimulate other fruit to ripen. If temperatures remain high outdoors, these picked fruit will ripen more quickly, perhaps by as much as five days. As far as flavor, the greener fruit should develop flavor and color similar to what you would get if field ripened. The key is picking them when they are showing the first signs of ripening (no earlier) and keeping them at room temperature. Do not refrigerate, as this will absolutely destroy their flavor.




Upcoming Events
2017 Produce Auction Growers Production Meeting (Yates)

January 12, 2017
Time TBD
Penn Yan, NY
This course will educate growers on disease and pest management, varieties and marketing issues in open field and high tunnel vegetables. Topics such as disease resistant varieties, pest/disease, cultural management and appropriate spray options.
2017 Empire State Producers EXPO

January 16 - January 19, 2017
Morning, Mid-day, and Afternoon Sessions
Syracuse, NY
Planning is already under way for the 2017 Empire State Producers Expo! This show combines the major fruit, flower, vegetable, and direct marketing associations of New York State in order to provide a comprehensive trade show and educational conference for the fruit and vegetable growers of this state, as well as the surrounding states and Eastern Canada.
2017 Winter Fresh Market Vegetable Meeting (Western region)

February 15, 2017
Time TBD
East Aurora, NY
Program topics will include an update on wildlife management, high tunnel nutrient management update, vegetable disease update including the new iPiPE Program in vegetables, new Climate Smart Farming Tools, differentiating between the beneficials and pests, cover crops and soil health, an update on Food Safety and Modernization Act and what you need to do for your farm, and other regional research and program updates.
Announcements
Carol MacNeil Retires After 40 Years at Extension
Our teammate, mentor, and friend Carol MacNeil retired on October 1, 2016 from Cornell Cooperative Extension after 40 years of service!
After completing a B.A. in Biology and Education from SUNY-Buffalo and her M.S. in Vegetable Crops and Soils from Cornell University, Carol was hired by Cornell Cooperative Extension of Ontario County in 1976 as a vegetable extension agent. As one of the pioneering women in this position, she gained the respect of growers, faculty, and industry colleagues through her knowledge, hard work and sincere desire to improve vegetable production on local farms.
Carol's responsibilities grew as she became part of the Ontario-Wayne-Yates-Steuben regional team, and then as a member of the 12-county Cornell Vegetable Program. Always seeing challenges and looking for ways to help, Carol has led the way in many initiatives such as her recent focus on improved soil health, production and pest management of dry beans and potatoes, and improving growers' ability to forecast and manage late blight disease.
Although we can never fill Carol's shoes completely, her duties will be divided amongst CVP team members, with the NYS IPM Program and Cornell Faculty assuming some of the research responsibilities. If you have questions or concerns, please contact Team Leader,
Julie Kikkert
.
Cornell Vegetable Program - Cornell Cooperative Extension
Your Trusted Source for Research-Based Knowledge