Event Details
Date
December 4, 2018
Time
10:00 AM - 12:30 PM, complimentary lunch following the meeting
Location
CCE Ontario County Auditorium
480 North Main St
Canandaigua, NY 14424
Cost
This event is free.
Host
Cornell Vegetable Program
Julie Kikkert
585-394-3977 x404
email Julie Kikkert
2018 Processing Snap Bean Advisory Meeting
December 4, 2018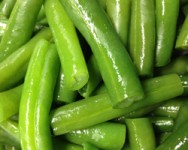 Discuss the 2018 snap bean growing season and management concerns. Reports and discussion of the 2018 Snap Bean Research Projects funded by the Association. Review priorities and the role of the advisory group in applications for state and federal grants. Give your input on the format of future advisory meetings and future educational programs.
10:00 AM Welco

me, Introductions, and Announcement

s
-- Julie Kikkert, CCE Cornell Vegetable Program and Steve Reiners, Cornell
Roundtable Discussion of Grower and Processor Concerns About the 2018 Growing Season
Review of 2018 Snap Bean Research Projects Funded by the Association
NYS processing snap bean variety evaluations

-- Jim Ballerstein, Cornell

Snap bean herbicide trial

-- Liz Maloney, Cornell

Towards a site-specific risk model for white mold in processing snap bean in New York

-- Sarah Pethybridge, Cornell
Report on Other Projects
Continued assessment of Cucumber Mosaic Virus and aphids in snap bean fields

-- Brian Nault, Cornell

OMRI-listed product trial for control of potato leaf hopper

(supported by Federal Capacity Funds) -- B. Nault, Cornell
Special Presentation: Update on the USDA NIFA CARE Funded Project - Progress in the Application of Remote Sensing to White Mold Management in Snap Beans
-- Ethan Hughes and Jan van Aardt, Rochester Institute of Technology, Rochester, NY
Establish Industry Priorities for 2019 Research12:25 PM ADJOURN and distribute DEC Certificates12:30 Complimentary Lunch
The meeting is FREE. No need to register. 1.75 DEC recertification credits (categories 10, 1a, 23) and CCA credits will be available.
For more information, contact
Julie Kikkert
.