Event Details
Date
May 6, 2019
Time
Monday, 6:30 - 8:00 PM
Location
Groundworks Market Garden
1698 Genesee St
Buffalo, NY 14211
Cost
This event is free.
Host
Cornell Vegetable Program
Elizabeth Buck
585-406-3419
email Elizabeth Buck
Women in Agriculture Discussion Group: Urban Farming
May 6, 2019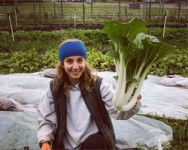 CCE Erie County and the Cornell Vegetable Program are partnering to facilitate a monthly women's discussion group on weekday evenings during the 2019 field season!
Each meeting will feature an established, innovative Farm-her leading the group on a tour of her operation and sharing her expertise on business management and production. Several guest speakers, as well as CVP staff, will be brought in to act as resource people for developing solutions to common production challenges.
The goal of the discussion group is to create a strong, professional resource network among farming women in western NY and to celebrate and recognize leading women growers. Thanks to a grant from Farm Credit East's Northeast AgEnhancement program, participation is free and will include scouting materials and factsheets.
The selected crop themes are centered around horticultural production, with an emphasis on vegetables. Each meeting will include a snack break and time to explore topics of interest to the group. This group is open to anyone professionally farming, including employees, and FFA/4-H youth age 16 & up who plan a career in horticulture.

The May 6 meeting will cover positive public relations and navigating municipal ordinances in urban farming. The meeting will be hosted by Mayda Pozantides (Groundwork Market Garden) and Allison DeHonney (Urban Fruits & Veggies). Participants will learn about production in urban soils and how to adapt farming techniques for urban environments.
View the full Women in Ag discussion group schedule below.
For more information, including the most recent meeting and speaker schedule, or to join the discussion group,
contact Elizabeth Buck
at 585-406-3419.
W.A.V.E.S. Schedule (PDF; 574KB)