Event Details
Date
July 29, 2019
Time
Monday, 5:45 - 8:00pm
Location
River View Farm
2531 Oak Orchard River Rd
Medina, NY 14103
Cost
This event is free.
Host
Cornell Vegetable Program
Elizabeth Buck
585-406-3419
email Elizabeth Buck
WNY Produce Auction Summer Meeting (Orleans Co.)
July 29, 2019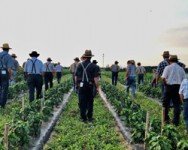 Attendees will be led by CCE Cornell Vegetable Program Specialists, Elizabeth Buck and Judson Reid, on a tour of the produce fields and receive hands-on training in scouting and identification of common weeds and vegetable-attacking diseases and insects. Cultural and chemical control options will be discussed, keeping in mind broader vegetable production best management practices.
FREE!
DEC recertification credits will be available for those that provide their DEC Certified Pesticide Applicator ID and/or registration number. Only the attendees who attend the entire course will be awarded a certificate.