Fresh Market Potato and Onion Twilight Meeting
---
Event Details

Date
September 3, 2020
Time
6:00pm - 8:00pm
Location
Williams Farms
5060 Russell Rd (gravel lot outside of warehouse)
Marion, NY 14505
Cost
FREE!
Host
CCE Wayne County
Margie Lund, CCE Cornell Vegetable Program
607-377-9109
email Margie Lund, CCE Cornell Vegetable Program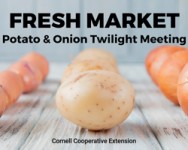 This in-person event, hosted by CCE Wayne County, will cover the fresh market potato variety trial and potato disease forecasting. The onion portion of the program will include 1) post-emergent weed control of big weeds in little onions; 2) Fresh research results of 2020 fungicide trial evaluation for Botrytis leaf blight; and; 3) Fresh research results of 2020 "hammer" insecticide onion thrips trial.

2.0 DEC recertification credits will be available for those who attend the full meeting.
The meeting will take place in the gravel lot outside the warehouse, and we will not be walking the field trials in order to make sure we are following Cornell guidelines on safe social distancing.
Bring your own chair.
No food will be provided. Please eat beforehand.
Growers may bring their own bottle of water since beverages will not be provided.
Masks will be required and growers will be expected to maintain 6 feet of distance and follow proper social distancing while in attendance.
If growers have been feeling ill or have had contact with anyone confirmed to have COVID-19, we ask that they not attend the meeting.
Attendees will be required to sign a COVID-19 check with contact information at sign-in at the meeting.
This event is FREE! For more information and to register, contact Margie Lund at 607-377-9109 or email Margie.


Upcoming Events
2023 Potato Advisory Meeting

December 12, 2023
Canandaigua, NY
This year's Potato Advisory Meeting will include talks from Cornell faculty on insect pest and weed updates, as well as updates from this year's potato variety trials. Following lunch, there will be a round table discussion with fellow potato growers and industry members. DEC credits: 2.0 credits in 10, 1a, 23. This meeting is FREE to attendees and includes lunch!
2024 Finger Lakes Produce Auction Winter Growers Meeting

January 4, 2024
Penn Yan, NY
This annual meeting will present information on insect and disease management in fresh market vegetables in both field and greenhouse (high tunnel) vegetables, primarily for those growing for wholesale auction. Grafting, biological and, where appropriate, conventional spray options will be discussed. Berry production updates will be provided. A general session will include updates from the Food Safety Modernization Act. Judson Reid, Senior Extension Associate with the Cornell Vegetable Program along with CCE staff will instruct participants and facilitate peer-based learnings. DEC recertification credits will be offered.
Announcements