Storage Crop Facility School: Large-Scale Vegetable (Potato and Cabbage)
---
Event Details
Date
December 1, 2020
Time
9:00am - 1:00pm
Location
via Zoom

Cost
FREE!
Host
Cornell Vegetable Program
Margie Lund
607-377-9109
email Margie Lund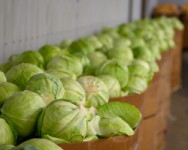 Speakers from across the Northeast will be presenting on challenges and updates surrounding large-scale potato and cabbage storage. Join us to hear about storage innovation and updating facilities, decreasing storage diseases, storage funding programs, and farm food safety considerations for storage facilities.

AGENDA:
9:00 AM - Introduction and overview
9:10-10:00 - Innovations in potato and cabbage storage and upgrading old facilities -- Techmark, Inc.
10:00-10:30 - Decreasing potato diseases in storage -- Steve Johnson, University of Maine
10:30-11:00 - Decreasing cabbage Alternaria in storage -- Chris Smart, Cornell University
11:00-11:30 - Funding programs for upgrading or building new facilities, equipment -- Karen Rugenstein, Farm Service Agency
11:30-12:00 - Farm food safety considerations for storage -- Robert Hadad, CCE Cornell Vegetable Program
12:00-12:30 - NYS Farm to School program -- Becky O'Connor, Harvest NY
12:30-1:00 - Additional time for questions and further discussion with speakers

REGISTRATION:
This FREE event will be held online via Zoom or you can listen in by phone. Registration is required. Only those who register will receive meeting attendance information. To register, please email Margie Lund and include the name(s), phone number, and email of those who plan to attend.


Upcoming Events
Precision Agriculture Workshop VIRTUAL SERIES
January 21, 2021
February 4, 2021
February 18, 2021

Farmers and anyone interested in learning more about precision agriculture and how it can be implemented on the farm is invited to attend a 3-part virtual series. The series will feature Dr. Ali Nafchi, Precision Agriculture Specialist with CCE's NWNY Dairy, Livestock and Field Crops Team and the Cornell Vegetable Program. Topics will begin with an introduction to precision agriculture and why any producer of an agricultural product should be interested in precision agriculture.
Remote GAPs Training and Farm Food Safety Plan Writing Session
January 27 - January 28, 2021
Join Cornell Cooperative Extension on January 27th for a remote GAPs training. Instructors will walk growers through how to conduct a risk assessment on their farm utilizing the seven areas of farm food safety. Participants will gain hands-on experience in creating a traceability system for their farm, as well as learn about packing house design with food safety principles guiding placement of equipment and suggested materials. Students will also learn about how to train their employees related to food safety and understand what they will need to implement on their farm in order to pass a third-party food safety audit, such as GAPs.
On January 28th growers can join us for a day focused on writing their farm food safety plan. Trainers will be joined by NYS Department of Agriculture & Markets Farm Products inspectors to give guidance and input for farms in creating their farm food safety plans to meet the needs for a potential audit. At the conclusion of day two growers will have all components of their farm food safety plans outlined with the most critical pieces.
Announcements