Sorry, Pre-Registration for has passed.
2021 NYS Dry Bean Meeting
---
Event Details

Date
March 19, 2021
Time
9:00am - 12:30pm
Location
Online via Zoom

Cost
Registration : $20.00
(addl attendee $15.00 ea.)
If you are a Cornell Vegetable Program enrollee, select CVP Enrollee to get the discount.
Enrollee Discount: $5.00
Host
Cornell Vegetable Program
Margie Lund
607-377-9109
email Margie Lund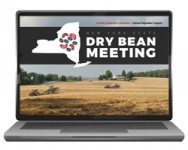 Join the us for the annual Dry Bean Meeting! There will be presentations covering the latest research in NY dry beans. Topic areas include market updates, white mold management, Western bean cutworm and soybean cyst nematode management, herbicide resistance management, dry bean variety testing, and incorporating NY dry beans into schools. This meeting is sponsored by Genesee Valley Bean Company, and Bayer CropScience.
This event will be held virtually via Zoom, and 2 DEC credits will be available.

Price: $15 for CVP Enrollees, $20 for Non-enrollees.

AGENDA:
9:00 AM Welcome/Announcements/DEC Sign-in
9:10 Overview of the 2020 growing season and market update -- Jerry Jones, NY Bean and Matt Stawowy, Steele & Co

9:30 Towards a durable management strategy for white mold in dry beans in New York (2019/20): The status of fungicide sensitivity within the Sclerotinia sclerotiorum population -- Sarah Pethybridge, Cornell

9:50 Determine the magnitude and distribution of Western bean cutworm, and the risk to dry beans, in the major production area in New York -- Margie Lund, Cornell Vegetable Program, and Marion Zuefle, NYS IPM Program

10:10 Soybean Cyst Nematode - Tracking and Managing the New Threat to NY Dry Bean Production -- Jaime Cummings, previously NYS IPM Program

10:30 Break

10:40 Herbicide resistance and resistance screening in dry beans -- Lynn Sosnoskie, Cornell

11:00 Breeding, evaluation and development of dry bean varieties that are highly adapted to NYS growing environments and markets -- Phillip Griffiths, Cornell

11:20 Comparison of new and standard dry bean varieties at NYSAES research farm -- Steve Reiners and Michael Rosato, Cornell

11:40 Cool School Food: Encouraging the use of dry beans in school lunches, and promoting the health aspects of dry bean consumption -- Amie Hamlin, NY Coalition for Healthy School Food

12:00 PM Vision 2050: NY Dry Beans -- Anu Rangarajan and Ryan Maher, Cornell

12:10 NYS Dry Bean Industry Advisory Committee Meeting

12:30 Adjourn

REGISTRATION AND DEC CREDITS:
This event will be held online via Zoom. Pre-registration is required by March 17. Only those who register will receive meeting attendance information and the Zoom link. Register online now!

DEC credits are available. In order to receive DEC credits, you have to pre-register, enter your DEC ID number AND email a photo of your DEC ID license to Margie Lund at least 2 days prior to the event. You can only receive credit if BOTH of those are submitted and match. Email Margie Lund my DEC ID license photo now!

It is also required to have your Zoom log in name match the name on your DEC ID. If you need to change your name in Zoom, hover over your window and click on the three (•••) dots in the upper righthand corner. Select "rename" to change your screen name displayed.

MORE INFORMATION ABOUT ZOOM:
The meeting will be held using an online videoconferencing platform called Zoom. Don't have Zoom? Sign up for free at Zoom and click on "Sign Up, It's Free"


Upcoming Events
No upcoming events at this time.
Announcements