Event Details
Date
February 25, 2014
Time
1:00 PM - 3:00 PM
Location
CCE Orleans County
12690 State Route 31
Albion, NY 14411
Cost
This event is free.
Host
Cornell Vegetable Program
Judson Reid
585-313-8912
email Judson Reid
2014 Orleans Produce Auction Growers Meeting
February 25, 2014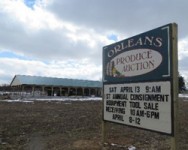 This course will educate growers on weed and disease management in fresh market vegetable grown for auction; as well as storage crop management and food safety concerns.
Free event!
Contact
Judson Reid
for more information.
Produce Auction Meeting Agenda (PDF; 421KB)