Event Details
Date
February 22, 2016
Time
9:30 AM - 3:00 PM
Location
NYS Agricultural Experiment Station, Jordan Hall
630 W North St
Geneva, NY 14456
Cost
$25.00 CVP enrollees or LOFP enrollees
(additional attendee $15.00 ea.)

$35.00 all others
(additional attendee $15.00 ea.)
Registration discount to Cornell Vegetable Program or Lake Ontario Fruit Program enrollees



At the Door
$25.00 CVP enrollees or LOFP enrollees
$35.00 all others
Registration discount to Cornell Vegetable Program or Lake Ontario Fruit Program enrollees

Host
Cornell Vegetable Program
Robert Hadad
585-739-4065
email Robert Hadad
Pre-Registration Deadline: February 18, 2016

EVENT HAS PASSED
Irrigation Water Regulations, Traceability, and Recall: Info for Produce Farmers Concerning FSMA
February 22, 2016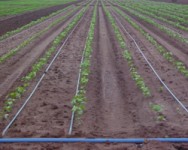 This meeting will provide information and answers to questions on several of the more complicated sections of the new FSMA regulations going into effect for produce growers. There will be a focus on irrigation water and what is required for testing your water sources, record keeping, how to set up a meaningful traceability program, and how to conduct a recall.
Focus on irrigation water will include:
What's required for testing for wells and surface water sources?

How many tests, how often, when to take them and how to take them?

Interpretation of results

How to set up an irrigation water test result profile and what it means

What are the regulations for contamination levels?

What to do if a water sample fails?

Presented by the Cornell Vegetable Program, the Cornell Produce Safety Alliance, and Cornell Cooperative Extension.
Cost: $25 Cornell Vegetable Program enrollees or Lake Ontario Fruit Program enrollees; $35 all others. Extra attendees from the same farm will only be charged $15 each to cover lunch.
For more information and to pre-register, contact Robert Hadad
or register online.