Event Details
Date
Mar 1 - Mar 29, 2017
Time
7:00 PM - 8:30 PM Wednesday evenings
Location
Webinar Series

Cost
$250.00



Host
Northeast Beginning Farmer Project

www.nebeginningfarmers.org/
Veggie Farming Webinar Series, Part 2: From Season-Long Care to Harvest
March 1 - March 29, 2017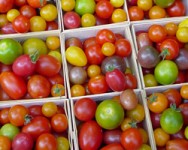 This five-week course online (BF121) on Wednesday evenings in March covers vegetable production from transplanting to harvest, including information on in-season fertility, integrated pest management, weed control options, harvesting strategies, and tips for marketing your products.
Designed for aspiring farmers and those with at least one growing season of vegetable farming experience. You should already have basic understanding of how to select crops, manage bed prep, seeding, and transplanting.
During the course you will create an in-season fertility and pest/weed control plan and weekly homework will focus on preparing you to make good decisions in the coming growing season. (Note: You don't need to have taken Part 1 to enroll in this course)
Week 1 (March 1): Transplant care, and using soil tests and vegetable guidelines to tailor your fertility program
Week 2 (March 8): Weed control options (organic and conventional) for the small farm
Week 3 (March 15): Integrated pest management: Insect identification and control
Week 4 (March 22): Integrated pest management: Disease identification and control
Week 5 (March 29): Harvesting and post-harvest handling strategies
Join Amy Ivy, regional production specialist for the CCE Eastern New York Commercial Horticulture Program, and Darcy Telenko, regional vegetable specialist with the CCE Cornell Vegetable Program for this informative course.
Fee for this course is $250. Sign up a month or more in advance of the start date and receive $25 off. Sign up for three or more courses and received $50 off your total.
LEARN MORE AND REGISTER:
www.nebeginningfarmers.org/online-courses/all-courses/bf-121-veggie-farming-part-2/