Event Details
Date
June 19, 2018
Time
5:00 PM - 7:55 PM; dinner served at 8:00 PM
Location
W. D. Henry & Sons, Inc.
7189 Gowanda State Rd
Eden, NY 14057
Cost
This event is free.
Host
Cornell Vegetable Program
Darcy Telenko
716-697-4965
email Darcy Telenko
Pre-Registration Deadline: June 18, 2018

EVENT HAS PASSED
2018 WNY Fresh Market Vegetable Twilight Meeting
June 19, 2018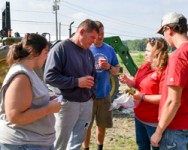 An early season fresh market vegetable discussion of issues and to present information on pest management tools. 2.25 DEC pesticide certification credits (categories 1a, 10, and 23) and 1.0 (category 21) will be available for those that attend the entire meeting. Dinner will be served after the meeting at approximately 8:00 PM.

Session Descriptions:




FSMA Updat

e

-- Robert Hadad, CCE Cornell Vegetable Program, will give an update on FSMA and implications for the 2018 season.



Scouting for Sweet Corn Pests

-- Marion Zuefle, NYS IPM, will review and demonstrate how to scout and identify the major sweet corn insect pests. She will also discuss action thresholds and best IPM practices for insect control in sweet corn. She will discuss the Sweet Corn Pheromone Network and how growers can use this tool to help make decisions on their farm. Growers will be encouraged to participate in this hands-on activity and ask questions.

Weed Management in Vegetable Crops

-- John Wallace, Cornell University and Bryan Brown, NYS IPM, will discuss major weed biology, identification, and weed management tools in vegetables. They will give an update on new herbicides and current tools available for both conventional and organic weed management. These will include tillage, competition, crop rotation, stale seed bed technique, cultural practices, fertility and herbicides. Growers will be encouraged to actively participate, ask questions.

Early Season Vegetable Pest Management Discussion and Crop Walk

-- Darcy Telenko, CCE Cornell Vegetable Program, will lead a crop walk and talk about early season pest monitoring and management options in vegetables. Darcy will talk about programs available to monitor and track pests to help implement IPM practices on your farm. Darcy will lead a discussion on 2018 pest issues and review the best crop production practices for managing them. This may include host resistance, pesticides, or techniques that are available to minimize pest damage. Information will be provided for both conventional and organic growers at all levels of expertise.

Using the New BlightPro Disease Forecasting System for Late Blight in Tomatoes and Potatoes -- Ukko Agro co-founders

Cost: FREE to growers due to the support of sponsors! Since dinner will be provided, please call us or register here to let us know that you plan to attend so that we can place the dinner order. Contact Darcy Telenko at 716-652-5400.

Sponsored by BASF, NutriAg, Siegers Seeds, Stokes Seeds, Gowan, Miller Chemical, Seedway, Dubois Agrinovation, and Arysta Life Sciences.