Sorry, Pre-Registration for has passed.
GAPs Farm Food Safety Virtual Training
---
Event Details
Date
March 23, 2022
Time
8:45 am - 4:00 pm
Location
Online via Zoom

Cost
Fee per farm : $25.00
Host
Cornell Vegetable Program
Robert Hadad
585-739-4065
email Robert Hadad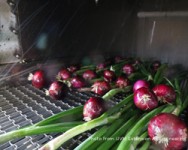 This workshop will cover the principles and practices of farm food safety for fresh produce farmers. Whether a buyer is asking for you to have a GAPs audit/certification or you just want to learn about improving food safety practices, this workshop is for you.
Topics are broken down into sections covering assessing situations where risk of microbial contamination could and would be a problem. These include land use, appraising adjacent land issues, handling manure/compost, wildlife and domestic animals, water sources/quality, pre-harvest, harvest, and post-harvest operations, wash/pack procedures, facility hygiene and sanitation, and worker training.

COST AND REGISTRATION:
$25 per farm. Register online. The workshop Zoom link will be in your registration confirmation email.
For more information, email Robert Hadad or call him at 585-739-4065.


Upcoming Events
Sanitation Open House for Fruit and Vegetable Growers
November 29, 2022
Geneva, NY
Come experience several hands-on stations to help jump start and enhance your sanitation program. Try out new cleaning tools, learn how to select the right sanitizer, and assess the cleanability of different equipment.
Farm Food Safety Meeting
December 5, 2022
Newark, NY
This meeting will focus on updates and key considerations in farm food safety. Topics to be covered include agricultural water quality assessments, traceability procedures, tips for improving flow and efficiency in wash/pack facilities, cleaning and sanitation updates, plus plenty of discussion to answer your questions.
GAPs Training -- Understanding Food Safety on the Farm
December 9, 2022
Penn Yan, NY
Join the Cornell Vegetable Program and Cornell Cooperative Extension for a workshop that will provide you with the why's behind food safety recommendations along with practical, farm-based ideas to improve food safety on your farm.
Announcements