Extending the Harvest Season with Fall Production
Robert Hadad, Extension Vegetable Specialist
Cornell Vegetable Program
July 11, 2013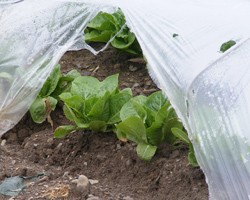 Late season production starts in mid spring. For a successful crop, start with a detailed plan. Designate an area specific for late season production so that management can take place in one spot rather than all over the farm. This will make cultivation, pest management, using row cover, and harvesting more efficient to manage.
Sow extra because you never know if the fall will be a mild one or not. A few extra warm weeks in October, November and even December can mean crops have more time to mature, can go later into storage, or can be protected longer under cover.
Several of the seed companies have segments in their catalogs or even separate catalogs to order late season and over wintering crop varieties. Read their descriptions carefully. Go heavy with tried and true types and experiment with a few new ones to see how they work. Some catalogs are from areas of the country where winters are milder so take their descriptions and planting dates with a grain of salt. We need to have things going at a tough time between hot Augusts and Septembers to cold cloudy wet spells in October. With diminishing sunlight, every cloudy day is like losing several sunny days making reaching maturity that much harder.
Set up plantings into beds and after last cultivation, put up low tunnel or Quick tunnel hoops. This will save time later if an early frost is forecasted and you have to cover things in a hurry. If you are using row cover, you probably still have it laying in the aisles next your early planted beds. Pull it out of there, dry it off, roll it up, and put it where you can get to it next fall. Put your sand bags set aside near the beds covered to protect them from the sun. Fill more to replace any old torn ones.
For kale, Swiss chard, cutting celery, and parsley, it might be a good strategy to get these crops started early, like now, so that you have large ready-to-pick plants going into the fall. Growth often slows down on later season plantings especially when the weather is cloudy. These are big plants that can take up room and if they are not ready to produce, they are costing you money.
A
planting schedule chart
arranged by crop is provided below. It includes days to maturity, harvest date range, seeding date, transplant date, key notes, and over-wintering information.
For more information or if you have any questions, please contact
Robert Hadad
, Cornell Vegetable Regional Specialist.
Planting Schedule Chart for Fall Production (pdf; 243KB)


Upcoming Events
CANCELED: Women in Agriculture (WAVES) Discussion Group: Auxiliary Farm Income
November 11, 2019
M 6:00pm - 7:30pm
Warsaw, NY
Due to the inclement weather, we have had to cancel tonight's discussion group meeting. Stay warm out there! CVP will repost the event if we are able to reschedule for a different date - check back soon!

The final Women in Agriculture (WAVES) meeting, focused on auxiliary farm income, will be held Monday, November 11, 2019 at Burley's Berries and Blooms in Warsaw.
Our host, Megan Burley, runs a creative and diversified farm that uses the existing farm infrastructure and landscape assets to augment her business's primary strawberry and cut flower income. Megan will teach participants how to use farm products to craft unique, value added fall and winter wreaths to extend your marketing season and supplement your farm product offerings. Megan can also discuss how social media helps promote her auxiliary farm products to a broader audience.
Additionally, we will be discussing Christmas Tree Production as an alternative use of farmland. Katherine Humphrey of All Western Evergreen Nursery and Christmas Tree Farm in Springwater, NY will be present to discuss Christmas tree/tree production.
Farm Food Safety 2-Day Training with GAPs
December 3 - December 4, 2019
Tues-Weds, 8:30am - 4:30pm
East Aurora, NY
This training is geared for fresh produce farms looking to learn and implement food safety practices into their operations. If you are looking to find new markets, many buyers are requiring food safety training. Under the GAPs (Good Agricultural Practices) program this training will help prepare you for implementing food safety practices and move you forward for audit/certification through NY State Dept of Agriculture. If you are looking to sell to farm to school programs, many school districts require a training course.
2019 Processing Vegetable Crops Advisory Meeting

December 17, 2019
9:30am - 12:10pm, 1pm - 2pm, and 2pm - 3:30pm
Batavia, NY
All are invited to attend and discuss the 2019 season for each crop, meet the new Cornell Weed Scientist and discuss weed management concerns, and receive updates on research conducted during 2019. Separate DEC and CCA credits will be available for each of the 3 crop meetings. The meeting is free of charge and there is no registration required.
Announcements