Food Safety Plan Template
Robert Hadad, Extension Vegetable Specialist
Cornell Vegetable Program
December 22, 2017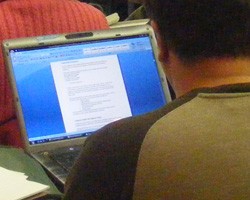 No one is crazy about taking the time to write things down. However, writing a food safety plan for your farm will help you implement the practices later. To ease the burden of trying to figure out what to write for in a plan, we have created a template for you to use.
This 28-page template allows you to fill in the pieces in a step-by-step regiment based on how you run your vegetable operation. The template is set up for the Good Agricultural Practices (GAPs) and the Harmonized GAPs programs. Having a written plan is also useful for implementing the Food Safety Modernization Act (FSMA) standards. A plan is not required for FSMA but it makes compliance much easier than not having one. For further questions or assistance, please
contact Robert Hadad
.
Still feel a bit overwhelmed about food safety practices and writing a plan?
You may want to attend one of our Farm Food Safety trainings (
see Events
for scheduled trainings or contact Robert for more info). The training provides information on the how's and why's of reducing microbial risk for your operation, creating a workable plan to organize your practices, and the knowledge for why these practices are important. Additionally, the team of food safety experts will help you get started writing your own farm food safety plan.
Food Safety Plan Template (Microsoft Word) (doc; 198KB)
This file will download to your computer when you click it.


Upcoming Events
Women in Agriculture Discussion Group: Apples and Vegetables
September 30, 2019
Monday, 6:00 - 7:30 PM
Lockport, NY
Each monthly Women in Ag discussion group meeting will feature an established, innovative Farm-her leading the group on a tour of her operation and sharing her expertise on business management and production. Several guest speakers, as well as Cornell Vegetable Program staff, will be brought in to act as resource people for developing solutions to common production challenges.

The September 30 meeting will cover season extension, managing CSAs and tarping led by Liz Tee, CCE Lake Ontario Fruit Program, and Elizabeth Buck, CCE Cornell Vegetable Program. The meeting will be hosted by Bree Bacon (McCollum Orchards & Gardens). Bree will share her experience in social media marketing and passive farm income.

Announcements