Growing for Wholesale: Vegetable Grading/Sizing Templates
Robert Hadad, Extension Vegetable Specialist
Cornell Vegetable Program
February 21, 2018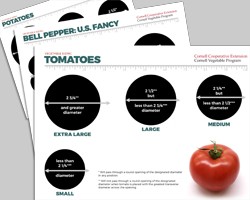 To further assist farmers looking to sell into wholesale markets, the Cornell Vegetable Program has put together some helpful tools. The tools provided here consist of a color photo guide highlighting the grades of some of the most common vegetables grown for wholesale market in WNY.

To aid in the visualization of the grading sizes, the crop templates provided below are scaled to size (8.5 x 11 paper). They can be printed and used to create sizing templates to be used by workers on the wash and pack lines.

The accompanying PowerPoint PDF found below, Making the Grade: Grading and Packing Fresh Produce, will give growers an overview of what buyers are looking for and why. Selling wholesale isn't for every grower and having the information to make these important decisions is crucial.

For more information within the Cornell Vegetable Program region of WNY, contact Robert Hadad.

Other resources are United States Standards and Grades, Purdue Agriculture - Illustrated Guides to Grading Vegetables, and UC Davis Produce Quality Rating Scales and Color Charts - Postharvest Technology Center.

Bell Pepper: U.S. Fancy (pdf; 494KB)
Bell Pepper: U.S. No. 1 (pdf; 588KB)
Bell Pepper: U.S. No. 2 (pdf; 585KB)
Broccoli (pdf; 577KB)
Brussels Sprouts (pdf; 479KB)
Cauliflower (pdf; 569KB)
Cucumber: U.S. Fancy (pdf; 518KB)
Cucumber: U.S. Large (pdf; 517KB)
Cucumber: Slicers (pdf; 586KB)
Eggplant (pdf; 559KB)
Potatoes (pdf; 512KB)
Tomaotes (pdf; 481KB)
Zucchini and Summer Squash (pdf; 719KB)
Set of All Vegetable Sizing Templates (pdf; 3996KB)
Download this file if you wish to have 1 file containing all 13 templates
Making the Grade: Grading and Packing Fresh Produce (PPT) (pdf; 1016KB)


Upcoming Events
Managing Soil Nitrogen in Winter High Tunnels
March 5, 2021
To meet the year-round demand for locally produced food, vegetable farmers have embraced protected agriculture to extend their growing season, improve yields, and enhance crop quality. However, a statewide survey found that after several growing seasons, farmers struggle to maintain productivity due to challenges in long term soil health and fertility management. Cornell Cooperative Extension is exploring practices that high tunnel growers can adopt to better manage soil fertility and improve soil health.

Grab your lunch and join us for a virtual conversation on Friday, March 5, 2021 from 12:00pm - 1:30pm to hear our project updates and research results.
Assess and Prevent Food Safety Risks in Leafy Greens Production
March 18, 2021
This training will provide an overview of possible sources of contamination related to soil amendments, wildlife, water, post-harvest handling, transportation and more. This training will emphasize specific risks that leafy greens growers may experience, identify tangible corrective actions that can be taken, and provide participants the opportunity to work through example scenarios as a group.

2021 NYS Dry Bean Meeting

March 19, 2021
Join the us for the annual Dry Bean Meeting! There will be presentations covering the latest research in NY dry beans. Topic areas include market updates, white mold management, Western bean cutworm and soybean cyst nematode management, herbicide resistance management, dry bean variety testing, and incorporating NY dry beans into schools. This meeting is sponsored by Genesee Valley Bean Company, and Bayer CropScience.
Announcements