Growing for Wholesale: Vegetable Grading/Sizing Templates
Robert Hadad, Extension Vegetable Specialist
Cornell Vegetable Program
February 21, 2018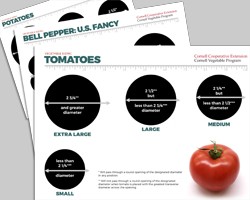 To further assist farmers looking to sell into wholesale markets, the Cornell Vegetable Program has put together some helpful tools. The tools provided here consist of a color photo guide highlighting the grades of some of the most common vegetables grown for wholesale market in WNY.

To aid in the visualization of the grading sizes, the crop templates provided below are scaled to size (8.5 x 11 paper). They can be printed and used to create sizing templates to be used by workers on the wash and pack lines.

The accompanying PowerPoint PDF found below, Making the Grade: Grading and Packing Fresh Produce, will give growers an overview of what buyers are looking for and why. Selling wholesale isn't for every grower and having the information to make these important decisions is crucial.

For more information within the Cornell Vegetable Program region of WNY, contact Robert Hadad.

Other resources are United States Standards and Grades, Purdue Agriculture - Illustrated Guides to Grading Vegetables, and UC Davis Produce Quality Rating Scales and Color Charts - Postharvest Technology Center.

Bell Pepper: U.S. Fancy (pdf; 494KB)
Bell Pepper: U.S. No. 1 (pdf; 588KB)
Bell Pepper: U.S. No. 2 (pdf; 585KB)
Broccoli (pdf; 577KB)
Brussels Sprouts (pdf; 479KB)
Cauliflower (pdf; 569KB)
Cucumber: U.S. Fancy (pdf; 518KB)
Cucumber: U.S. Large (pdf; 517KB)
Cucumber: Slicers (pdf; 586KB)
Eggplant (pdf; 559KB)
Potatoes (pdf; 512KB)
Tomaotes (pdf; 481KB)
Zucchini and Summer Squash (pdf; 719KB)
Set of All Vegetable Sizing Templates (pdf; 3996KB)
Download this file if you wish to have 1 file containing all 13 templates
Making the Grade: Grading and Packing Fresh Produce (PPT) (pdf; 1016KB)


Upcoming Events
Western S. Tier Produce Meeting

January 28, 2020
Jamestown, NY
A jam-packed schedule of educational topics for regional growers, this meeting features dynamic sessions and peer-to-peer learning opportunities. Topics will be relevant for vegetable, berry, field crops, and greenhouse/flower, and organic growers. Focus areas in 2020 include disease management and enhancing local markets. Pesticide credits available in many NY and PA categories, CEUs requested.
2020 Upper Genesee Valley Produce Growers Meeting
February 14, 2020
Freedom, NY
A bit of something for everyone! This meeting will feature experts from Cornell Cooperative Extension discussing food safety in auction lots and quality control, how to successfully lengthen the growing season, making the most of a small grain rotational crop, and common disease and pest info. Summer squash, cabbage and pepper production tips will be presented by Mark Zittel, an experienced produce and greenhouse grower for 20+ years. Participants will have the opportunity to join group discussion in breakout sessions of their choosing. And don't forget to stop by the Demo Table to see weeds and soil health exhibits. FREE but registration is requested by February 12.
Precision Agriculture Series - Erie
February 19, 2020
March 4, 2020
March 25, 2020
: Erie County
East Aurora, NY
Join Cornell Cooperative Extension to learn what precision agriculture entails, the economics of using precision ag, and the preferred methodology and benefits. This free, 3-day event series is being organized by CCE Erie County with assistance from Dr. Ali Nafchi, Precision Ag Specialist of the CCE Cornell Vegetable Program and CCE NWNY Dairy, Livestock, and Field Crops team. Topics for each day will be determined by the audience interests and questions.
Announcements