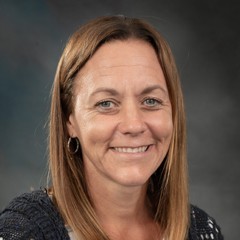 Christy Hoepting
Extension Vegetable Specialist
CCE Orleans County
12690 Rt. 31
Albion, NY 14411
phone 585-798-4265 x38
cell 585-721-6953
fax 585-798-5191
email Christy
Areas of Interest
Field Research, Pesticide Training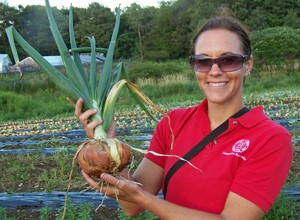 Crops
Cabbage, Garlic, Onions
Background

During her bachelor degree studies at the University of Guelph, ON, Canada, Christy Hoepting held several positions focusing on soil quality and muck crop research. Her focus shifted to onions during her master degree studies with her thesis written on Pesticide Interaction in the Management of Onion Maggot and Onion Smut. Christy joined the Cornell Vegetable Program in 2001. Today, much of Christy's time is spent in the field conducting valuable research on onions and cabbage.


Upcoming Events
2015 Empire State Producers EXPO

January 20 - January 22, 2015
Morning, Mid-day, and Afternoon Sessions
Syracuse, NY
This show combines the major fruit, flower, vegetable, and direct marketing associations of New York State in order to provide a comprehensive trade show and educational conference for the fruit and vegetable growers of this state, as well as the surrounding states and Eastern Canada. The Cornell Vegetable Program Specialists are involved in organizing sessions on Processing Vegetables, Potatoes, Onions, Cabbage/Cole Crops, Soil Health, Managing Herbicide Resistance, Tunnels, and Ethnic Vegetables. Registration information will be available soon.
Announcements
Cornell Vegetable Program Receives Award
The Cornell Vegetable Program has been awarded the 2014 Cornell University College of Agriculture and Life Sciences'
Research and Extension
Award for Outstanding Accomplishments in Extension/Outreach
. This award recognizes individuals/teams who have demonstrated leadership in developing a highly innovative and responsive extension/outreach program that addresses stakeholder needs. The Awards Committee cited the excellent synergy among members of the Cornell Vegetable Program team in addressing the needs of New York's vegetable production operations and the many activities our team collectively organize to successfully connect Cornell faculty and their research with the real-world needs of vegetable producers. Our team will be recognized at an awards ceremony on November 10.
Send a congratulatory message to the Cornell Vegetable Program.
Include a message about how our team has helped your organization. We hope to hear from you!
Funding Available for Soil Health Practices
New funding opportunities are available to assist growers in adoption of reduced tillage and cover cropping practices. Contact NRCS at your local USDA Service Center, and/or county Soil & Water Conservation District staff as soon as possible, to be eligible for assistance in 2015.
Read more
about the State and Federal program opportunities to improve soil health for vegetable producers.
Cornell Vegetable Program - Cornell Cooperative Extension
Your Trusted Source for Research-Based Knowledge