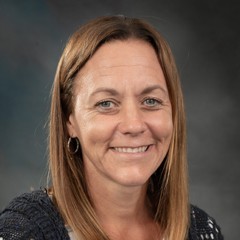 Christy Hoepting
Extension Vegetable Specialist
CCE Orleans County
12690 Rt. 31
Albion, NY 14411
phone 585-798-4265 x38
cell 585-721-6953
fax 585-798-5191
email Christy
Areas of Interest
Field Research, Pesticide Training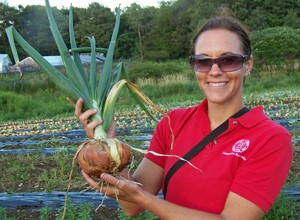 Crops
Cabbage, Garlic, Onions
Background

During her bachelor degree studies at the University of Guelph, ON, Canada, Christy Hoepting held several positions focusing on soil quality and muck crop research. Her focus shifted to onions during her master degree studies with her thesis written on Pesticide Interaction in the Management of Onion Maggot and Onion Smut. Christy joined the Cornell Vegetable Program in 2001. Today, much of Christy's time is spent in the field conducting valuable research on onions and cabbage.


Upcoming Events
Beating Back the Bugs - Walk & Talk
May 14, 2014
Wed. 5:00pm
Allegany, NY
This month we'll be focusing on insect management. What are some of the main pests, and what is the best way to deal with them? Learn how to develop a proactive, integrated pest management approach and bring all your questions about spray effectiveness, beneficials, scouting, and more.
Beneficial Insect and Habitats - Rolling Hills Discussion Group

June 17, 2014
Tues. 6:00 - 7:30pm
Livonia, NY
Abby Seaman and Marion Zuefle, of the NYS IPM Program, will teach which beneficial insects are used to control certain pests. Come learn about their lifecycles, predation strategies, and potential to be used on your farm!
Kira White, Vegetable Manager at Honeyhill Farm, will discuss her use of benefical insect promoting habitat. Attractive habitats provided by flower beds, certain cover crops, and banker plants help draw beneficials to your crop.
Announcements
2014 Cornell Vegetable Guidelines Available
The 2014 edition of the Cornell Commercial Vegetable Production Guidelines is available. This annual publication provides up-to-date vegetable crop production information for New York State. It has been designed as a practical guide for vegetable crop producers, crop consultants, and ag suppliers. The cost of this guide is $33 plus shipping. You can order this publication, or other Cornell Guidelines, through Cornell Cooperative Extension offices or from the
Cornell Store
at Cornell University at 800-624-4080.
Cornell Vegetable Program - Cornell Cooperative Extension
Your Trusted Source for Research-Based Knowledge