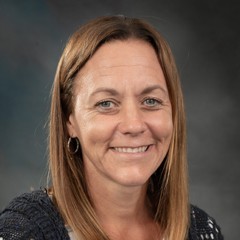 Christy Hoepting
Extension Vegetable Specialist
CCE Orleans County
12690 Rt. 31
Albion, NY 14411
phone 585-798-4265 x38
cell 585-721-6953
fax 585-798-5191
email Christy
Areas of Interest
Field Research, Pesticide Training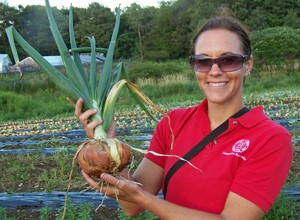 Crops
Broccoli, Cabbage, Garlic, Onions
Background

During her bachelor degree studies at the University of Guelph, ON, Canada, Christy Hoepting held several positions focusing on soil quality and muck crop research. Her focus shifted to onions during her master degree studies with her thesis written on Pesticide Interaction in the Management of Onion Maggot and Onion Smut. Christy joined the Cornell Vegetable Program in 2001. Today, much of Christy's time is spent in the field conducting valuable research on onions, cabbage, and broccoli.
Watch a 2 minute video
on Christy's work in our region.


Upcoming Events
Seneca Produce Auction Greenhouse Growers Meeting
February 17, 2016
12:15 PM - 3:00 PM
Romulus, NY
This meeting for produce auction growers will include information on making flowers profitable for auction sales, growth regulators, vegetable transplant production, alkalinity and irrigation, and principals of acidification. This will be a fairly informal, discussion oriented meeting.
2016 Auction Growers Production Meeting (Orleans)

February 18, 2016
1:00 PM - 3:45 PM
Albion, NY
This course will educate growers on disease and pest management, varieties, soil management, and marketing issues in open field and high tunnel vegetables. Topics such as disease resistant varieties, managing pests (weeds, diseases, birds), cultural management and appropriate spray options.
There will 3 grower panels during this event. Weed control and Best Management Practices for Auction will be discussed by the first panel. A sweet corn grower panel will discuss varieties, seeding dates, and auction sales. The final grower panel will focus on soil management for Orleans County clay.
Irrigation Water Regulations, Traceability, and Recall: Info for Produce Farmers Concerning FSMA
February 22, 2016
9:30 AM - 3:00 PM
Geneva, NY
This meeting will provide information and answers to questions on several of the more complicated sections of the new FSMA regulations going into effect for produce growers. There will be a focus on irrigation water and what is required for testing your water sources, record keeping, how to set up a meaningful traceability program, and how to conduct a recall.
Announcements
2016 Cornell Vegetable Guidelines Available
The 2016 edition of the Cornell Commercial Vegetable Production Guidelines is now available. This annual publication provides up-to-date vegetable crop production information for New York State. It has been designed as a practical guide for vegetable crop producers, crop consultants, and ag suppliers. In addition to the annually revised pesticide and crop production information, this edition also includes the addition of several new pests of concern (seedcorn maggot in beans, leafminers in lettuce and endive, spider mites in peppers, anthracnose in spinach, and powdery mildew in tomatoes), a new table listing biofungicide options for vegetable production, revised management strategies for striped cucumber beetle in cucurbits and Stewart's wilt in sweet corn, and identification of pesticide active ingredients that meet EPA's criteria for acute toxicity to bees.
NOTE: Vegetable Guidelines are no longer be offered for free online. Instead, you will have the option to purchase just a print copy ($33 plus shipping), online version ($33), or a bundle of a print copy plus online access ($46 plus shipping). You can order this publication, or other Cornell Guidelines from the
Cornell Store
at Cornell University at 844-688-7620.
Video Released: Using Produce Washing Stations
A new video has been created to show you a set of standard operating procedures for using a germicidal bleach in a produce washing station. Learn what supplies are required and how to calculate the amount of germicidal bleach needed to sanitize the water.
Watch the video now.
This video was developed by the Cornell Vegetable Program and Harvest New York with support from the USDA and the Northeast Center for Risk Management Education.
Empire State Producers EXPO Proceedings Available
Proceedings from the Empire State Producers EXPO
conference from 2011-2016 are available online.
Cornell Vegetable Program - Cornell Cooperative Extension
Your Trusted Source for Research-Based Knowledge