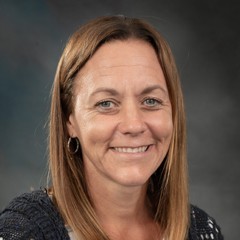 Christy Hoepting
Extension Vegetable Specialist
CCE Orleans County
12690 Rt. 31
Albion, NY 14411
phone 585-798-4265 x38
cell 585-721-6953
fax 585-798-5191
email Christy
Areas of Interest
Field Research, Pesticide Training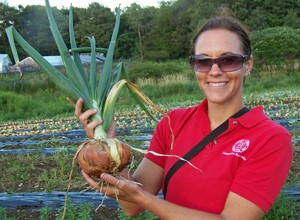 Crops
Broccoli, Cabbage, Garlic, Onions
Background

During her bachelor degree studies at the University of Guelph, ON, Canada, Christy Hoepting held several positions focusing on soil quality and muck crop research. Her focus shifted to onions during her master degree studies with her thesis written on Pesticide Interaction in the Management of Onion Maggot and Onion Smut. Christy joined the Cornell Vegetable Program in 2001. Today, much of Christy's time is spent in the field conducting valuable research on onions, cabbage, and broccoli.
Watch a video
on Christy's work in our region.


Upcoming Events
High Tunnel School (Bath, NY)
December 2, 2014
10:00 AM - 3:00 PM; registration at 9:30 AM
Bath, NY
This beginner level school is for new high tunnel growers and will focus on best management practices, with an emphasis on tomato production. The school is strongly encouraged for growers with 2 or fewer seasons of tunnel growing experience, those considering getting a tunnel in the next few seasons, or NRCS EQIP recipients.
2014 Processing Beet and Carrot Advisory Meeting

December 8, 2014
12:30 PM - 2:30 PM
Batavia, NY
All are invited to discuss the 2014 processing beet and carrot season in New York. Hear ideas and concerns from fellow growers and industry members. Your input is needed to set future research priorities.
2014 Processing Pea Advisory Meeting

December 8, 2014
10:00 AM - 12:00 PM
Batavia, NY
Come discuss the 2014 processing pea season with industry colleagues. Your input is needed to set priorities for future research.
Announcements
Report Your Losses Due to Heavy Snow to CCE
CCE county offices are working to compile a list of farms with damage or losses from the snow storms in Western NY the week of 11/17/14. If you have had damage or loss and haven't spoken to a CCE office in your area, please contact your local office as soon as possible. Vegetable farms can also
contact Darcy Telenko
.
Do's and Don'ts for Barn Snow Removal
Concerned about the snowload on your barn roof? Removal of significant snow accumulations off of a barn roof is best performed in a systematic way to reduce the risk of injury or death to both barn occupants and those working on the roof. Removing roof snow without a proper approach may actually cause more damage than if left alone in some cases by creating an unbalanced and/or concentrated roof loads.
Read more and view drawings on how to safely and effectively remove snow from a barn roof.
New Video Helps to Promote the Work of the CVP
Many people in our community are not aware of the size or the impact of the Western New York vegetable industry on the state's economy. We decided to do something about that! The Cornell Vegetable Program is proud to release a video that highlights vegetable production in our region – from fresh market to processing, from farms that are several thousand acres to just a few, from biodynamic growers to conventional – and provides an introduction to our team of Vegetable Specialists and how we assist growers in this area. We greatly appreciate that several WNY vegetable growers shared their thoughts on what the Cornell Vegetable Program means to them: Paul Fenton, Batavia; Mark Zittel, Eden; and Matt Mortellaro, Elba. The video was produced by videographer, James Monahan.
Watch the video
and leave us a comment!
Cornell Vegetable Program - Cornell Cooperative Extension
Your Trusted Source for Research-Based Knowledge