Event Details
Date
March 27, 2019
Time
W 9:00 AM - 4:30 PM
Location
Cornell AgriTech (formerly known as the NYS Ag Experiment Station)
Jordan Hall, 630 W North St
Geneva, NY 14456
Cost
$20.00 CVP enrollee
(additional attendee $20.00 ea.)

$30.00 non-CVP enrollee
(additional attendee $30.00 ea.)


Host
Cornell Vegetable Program
Robert Hadad
585-739-4065
email Robert Hadad
Pre-Registration Deadline: March 25, 2019

EVENT HAS PASSED
Produce Safety School -- Sanitary Design and Practice Considerations for Your Farm
March 27, 2019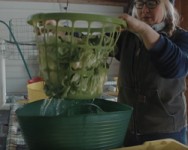 This is a full-day program focusing on putting farm food safety into daily production practices. Participants will learn why and how to clean, sanitize, and dry produce. Hygienic designs and applications will be covered in detail.
Speakers include
Chris Callahan
and
Andrew Chamberlin
from UVM Extension,
Elizabeth Bihn
and Elizabeth Demmings from the
Produce Safety Alliance
, and Robert Hadad from the CCE Cornell Vegetable Program.
AGENDA:
Introduction to Produce Safety

Cleaning - the "how's and why's"

Sanitizing - "how's and why's"

Drying - "how's and why's"Hygienic Design
Visible and Reachable Surfaces
Smooth and Cleanable Surfaces
No Collection Points
Compatible Materials
Preventing Contamination
Equipment
Buildings
Tools and Practices
Applications
Greens Spinners - Comparison using evaluation checklist
Using SOP's for hard to clean equipment
Barrel Washer
Brush Washer
And much more!

COST includes lunch:
$20 Cornell Vegetable Program enrollees. (Want to enroll in the Cornell Vegetable Program? See Enrollment for more information or contact your local Cornell Cooperative Extension office.)

$30 non-enrollees

REGISTER NOW! For more information, contact Robert Hadad.