Event Details
Date
March 21, 2017
Time
9:00 AM - 12:00 Noon
Location
NYS Agricultural Experiment Station, Raw Products Bldg
4920 Collier Dr
Geneva, NY 14456
Cost
$10.00 Call to register but pay at door.

Cash and check accepted.


Host
CVP, CCE Steuben and CCE Ontario
Robert Hadad
585-739-4065
email Robert Hadad
Post-Harvest Wash/Pack Shed Operation Training
March 21, 2017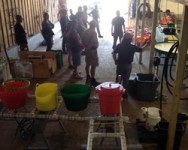 CCE Steuben County, CCE Ontario County, and the Cornell Vegetable Program present a farm food safety training for post-harvest wash/pack shed operation. This half-day training will teach growers how to incorporate food safety principles into everyday practices. We will focus on topic pack shed design and set-up, reducing cross-contamination risk, demystifying sanitizer usage, clean up, and improving post-harvest handling.
Cost: $10. Call Robert Hadad at 585-739-4065 to register and pay at the door.
For more information,
contact Robert Hadad
or
Stephanie Mehlenbacher
at 607-664-2300, or
Marie Anselm
at 585-394-3977 x402.
Directions to Raw Products Bldg at 4920 Collier Dr:

- Heading south on Preemption Rd, next left after W. North Rd.
- Heading north on Preemption Rd., first right before W. North Rd.
Raw Products Building is the first building on right.